Update on commitment to process NZ 189 visa backlog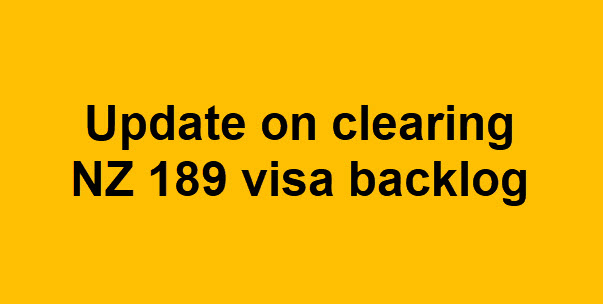 Processing visa backlog - the Australian government have committed to processing New Zealand Stream 189 visas currently on hand by mid-2023.
10 December 2022
Closure of New Zealand stream 189 visa
The New Zealand stream 189 visa temporarily closed to new applications on 10 December 2022 while the Government considered future migration and citizenship pathways for New Zealand citizens in Australia. On 22 April 2023 the Government announced a direct citizenship pathway for non-protected Special Category Visa-holders.
The New Zealand Stream 189 visa will close permanently from 1 July 2023. Applications already submitted will be finalised in the coming months.
Streamlined measures to clear application backlog
The Department of Home Affairs will seek to finalise the majority of on-hand applications, and has established a dedicated taskforce to prioritise the processing of this caseload.
The following streamlining measures introduced acknowledge that this group of New Zealand citizens are long-term residents of Australia, have been working here and contributing to Australia's economic recovery during the COVID-19 pandemic. These include removing the requirement for New Zealand stream on-hand applicants to satisfy criteria relating to:
a period of residence in Australia;
the income threshold; and
health, given New Zealand citizens can already access Medicare.
If you have applied for the NZ stream 189 visa Home Affairs will contact you if they require additional information or supporting documents.
Back-dated PR for NZ 189 visa applicants
In recognition of the extraordinary processing times for the New Zealand Stream 189 visa, NZ citizens granted the visa after 31 December 2021 up to 1 July 2023 are eligible to apply for citizenship. from 1 January 2023.
Unfortunately, 461 visa-holders are not eligible for back-dated PR. We have raised this issue with the Minister's office.
Citizenship for children born in Australia
A child born in Australia between 1 January 2022 and 30 June 2023, prior to the grant of their parent's New Zealand stream 189 visa, can apply for proof of citizenship if the PR visa was granted within that time.
NZ 189 processing FAQs
The Department of Home Affairs website has more information and FAQs.
Review of New Zealanders rights in Australia
In July 2022 Prime Minister Anthony Albanese and New Zealand Prime Minister Jacinda Ardern committed to reviewing the rights of New Zealanders living in Australia, including the path to citizenship. Oz Kiwi has been consulted as part of the review, including meetings in Canberra.
A direct citizenship pathway for non-protected Special Category Visa-holders was announced on 22 April 2023.
Visa processing backlog
In October 2022 Federal Treasurer Jim Chalmers announced funding to clear the backlog of New Zealand Stream 189 Visa applications. Some applicants have been waiting more than 20 months.
Home Affairs Minister Clare O'Neil then told Oz Kiwi that all complete NZ 189 visa applications currently on hand would be processed by ANZAC Day 2023.
Minister for Citizenship, Immigration and Multicultural Affairs Andrew Giles has increased the number of staff processing visa and citizenship applications since the ALP took office in May 2023.
We thank Federal Treasurer Jim Chalmers, Home Affairs Minister Clare O'Neil, and Minister for Citizenship & Immigration Andrew Giles for their ongoing efforts to support New Zealanders living in Australia.