Direct citizenship pathway for New Zealanders living in Australia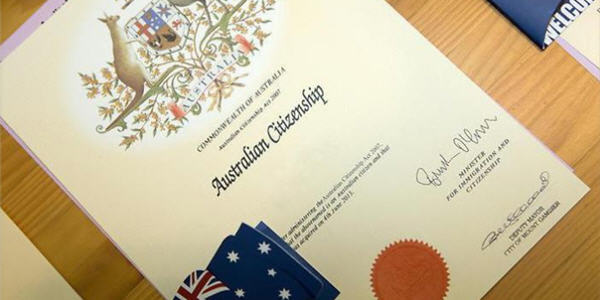 Australian citizenship certificate. Photo: AAP.
Breaking news
22 April 2023
Following a review of New Zealanders rights in Australia the Albanese Labor Government announced that non-protected Special Category Visa-holders who have resided in Australia for at least the past four years can apply directly for citizenship from the 1 July 2023 without needing to apply for a permanent visa.
For the direct citizenship pathway non-protected SCVs:
will be considered permanent residents for citizenship purposes.
must meet the usual character test.
must have basic English language knowledge to pass the citizenship test.
must pay the citizenship application fee, adult $540, 16 or 17 year old $330, 15 and under $330 or no cost if included on parent's application.
Note: There is no income threshold or health check required.
Protected Special Category Visa-holders
Protected Special Category Visa-holders will continue to be eligible to apply directly for Australian citizenship.
Share our citizenship flyer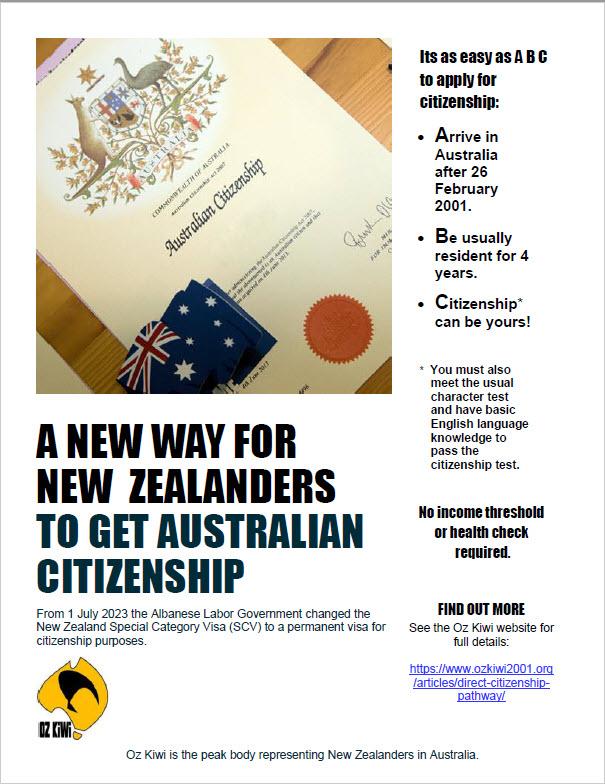 Download and share our Citizenship for New Zealanders flyer about the new direct citizenship pathway.
Australian citizenship
Learn more about applying for Australian citizenship. The Step-by-step tab has the required supporting documents and application process.
Children born in Australia
Children born in Australia on or after 1 July 2022 with a non-protected Special Category Visa-holder parent will be deemed to be Australian citizens from birth. Refer to Evidence of Australian citizenship from birth. A child born in Australia to SCV parents can apply for Evidence of Australian citizenship if they have usually lived in Australia until age 10. If one parent is a protected SCV, permanent resident or Australian citizen the child is a citizen from birth.
A minor (currently aged under 18) born in Australia prior to 1 July 2022 is eligible to apply for citizenship when their parents become eligible under the new pathway.
Non-New Zealand-citizen family (461 visa)
Non-New Zealand citizen family members of a non-protected SCV can remain on their 461 visa. However, if the New Zealander is granted Australian citizenship the 461 visas held by family members cannot be renewed.
Instead, as an Australian citizen they can sponsor the family members for a permanent visa if they wish to remain in Australia beyond the term of their current visas.
NZ Stream 189 visa
The New Zealand Stream 189 visa will close permanently from 1 July 2023. Applications already submitted will be finalised in the coming months.
Home Affairs is unable to refund application fees. You can withdraw your NZ Stream 189 visa before the second instalment has been paid.
More information
Refer to the Home Affairs New Zealand Citizens webpage for more information.
Advocates for change
Oz Kiwi thanks our fellow change advocates for their ongoing support of New Zealanders living in Australia:
Federal Treasurer Jim Chalmers
Home Affairs Minister Clare O'Neil
Minister for Citizenship & Immigration Andrew Giles
Anglicare Southern Queensland
WEstJustice
Nerang Neighbourhood Centre.