Timeline of proposed citizenship changes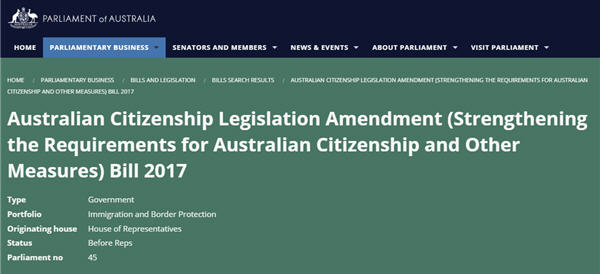 Australian Citizenship Smendment Bill (2017)
New direct pathway to citizenship
22 April 2023
Non-protected Special Category Visa-holders who have resided in Australia for at least the past four years can now apply directly for citizenship without needing to apply for a permanent visa.
Back dated PR for NZ 189 visa applicants
10 December 2022
In recognition of the extraordinary wait-times to process the New Zealand Stream 189 visa, NZ citizens who are granted the visa up to 1 July 2023 can apply for citizenship immediately. They do not need to reside as a permanent resident for 12 months. Find out more about back dated PR for NZ 189 visa applicants.
---
19 September 2020
The LNP Government made several attempts to change the eligibility criteria for Permanent Residents wanting to apply for citizenship. The biggest impact would be having to reside for four years as a Permanent Resident immediately prior to applying for citizenship.
Citizenship applicants currently must reside for four years, with at least the last 12 months as a Permanent Resident. Time spent residing as a Special Category Visa-holder counts towards three of the four years.
Outlined below is a timeline of the proposed citizenship legislation.
---
Citizenship Bill 2020
The government introduced new citizenship legislation on 19 September 2019. The Bill was a revamped version of the failed 2018 Bill. Neither Bill sought to change the residency requirement for permanent residents,
Status: The Bill passed both Houses of Parliament on 03 September 2020.
---
Citizenship Bill 2018
The government introduced citizenship legislation on 28 November 2018, however, the Bill did not seek to change the period of residency required before permanent residents can apply for citizenship.
Status: The Bill lapsed at dissolution of Parliament 11 April 2019.
---
Hanson Citizenship Bill
07 February 2018
Senator Pauline Hanson introduced a Private Members Bill to the Senate in February 2018. The Bill re-presents the Citizenship Legislation Amendment Bill (2017) and is unlikely to pass. The key difference is the requirement for citizenship applicants to have resided as a permanent resident for at least EIGHT years before they are eligible to apply.
Hanson's Citizenship Legislation Amendment Bill (2018) was referred to the Senate Legal and Constitutional Affairs Legislation Committee for an inquiry. The Committee's report, released on 15 March 2019, recommended the Bill not be passed.
Status: The Bill lapsed at end of Parliament on 1 July 2019 and will not be proceeding.
---
Dutton to overhaul citizenship rules
01 July 2018
After the Citizenship Amendment Bill (2017) was struck down by the Senate, Peter Dutton announced that he still intended to overhaul the citizenship rules with an effective date of 1 July 2018.
Status: Peter Dutton did not introduce new citizenship legislation before 1 July 2018.
---
Citizenship Bill struck down by Senate
20 October 2017
TAS Senator Nick McKim (Australian Greens) introduced a Motion in the Senate that lead to the Citizenship Amendment Bill (2017) being struck down in October 2017.
Status: the Citizenship Amendment Bill (2017) did not proceed.
---
Senate enquiry into the Citizenship Amendment Bill
22 June 2017
The Citizenship Amendment Bill (2017) was referred to a Senate Committee inquiry on 22 June 2017. Oz Kiwi made a submission to the Senate Committee Inquiry in July 2017 and were called as witnesses at a Senate Committee hearing in August 2017.
---
Proposed citizenship changes
20 April 2017
Home Affairs Minister Peter Dutton introduced the Citizenship Amendment Bill (2017). The proposed new requirements for citizenship applications submitted after 20 April 2017 included:
extending from one to four years the time an applicant must have been a permanent resident; and
putting into the citizenship test "more meaningful questions that assess an applicant's
understanding of - and commitment to - our shared values and responsibilities".
Home Affairs introduced a processing freeze for applications received after 20 April 2017. More stringent security checks and the processing freeze have seen the backlog of citizenship applications grow to over 200,000 applications, and processing times have increased from between 14 and 16 months in October 2017, to between 16 and 19 months in November 2018. Processing times are likely to increase even more.
Status: the Citizenship Amendment Bill (2017) will not proceed after being struck down on 20 October 2017.