New Citizenship Bill Senate inquiry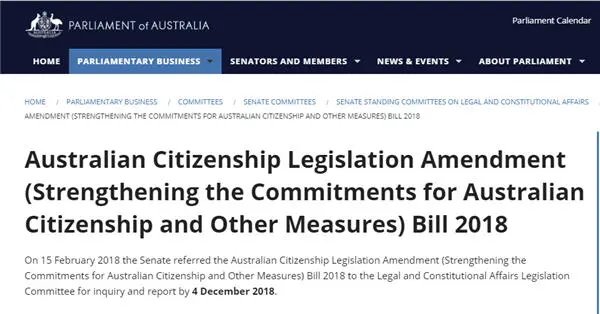 Senator Pauline Hanson has tabled a new Citizenship Bill in the Senate.
17 March 2019
On 15 March 2018 the Australian Senate Legal and Constitutional Affairs Committee released a report on its inquiry into Senator Pauline Hanson's Bill, the Australian Citizenship Legislation Amendment (Strengthening the Commitments for Australian Citizenship and Other Measures) Bill 2018.
---
09 March 2018
Senator Pauline Hanson has introduced a new Citizenship Bill to the Senate. The Bill re-presents the Citizenship Legislation Amendment Bill (2017). The key difference is the requirement for citizenship applicants to have resided as a permanent resident for at least EIGHT years before they are eligible to apply.
Read a summary of the proposed citizenship changes.
The Citizenship Bill has been referred to the Senate Legal and Constitutional Affairs Legislation Committee, with a report due 15 March 2019.
Online Survey
If you made a submission to the inquiry into the Citizenship Bill (2017), and your views have not changed, you had the option of completing an online survey rather than make another submission. The survey has now closed.
Public submissions
The Senate Committee is accepting substantive submissions for the inquiry into the Citizenship Bill (2018). The deadline for submissions is 5 pm, 27 April 2018 AEST.
The Committee has agreed that it will not accept form letters, petitions, or short statements of fewer than 250 words. As an alternative, the Committee has developed a short online survey to allow members of the public to express their view on the Bill. The survey will close at 5 pm, 27 April 2018 AEST.
NZ 189 visa exemption
NZ 189 visa-holders will only need to meet the current residence requirement before applying for citizenship. That is, 4 years residency including at least the last 12 months as a permanent resident. This is due to the NZ 189 visa requiring applicants to have resided in Australia for five years.
Please note
It is unlikely that Hanson's Citizenship Bill will be passed by the Senate. The Government will introduce their own Bill if they want to implement citizenship changes.