Hipkins and Albanese press conference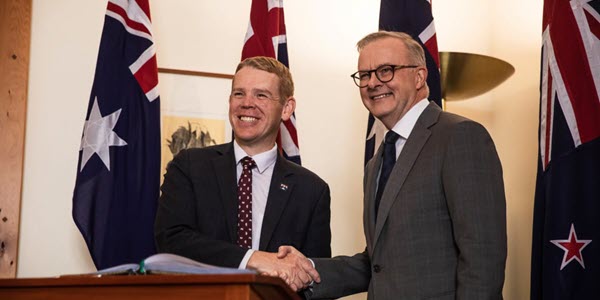 New Zealand Prime Minister Chris Hipkins shakes hands with his Australian counterpart Anthony Albanese. (Photo: RNZ/Samuel Rillstone)
07 February 2023
At the conclusion of today's meeting the two Prime Ministers held a joint press conference. Both leaders mentioned the review of New Zealanders rights in their opening remarks.
It is Chris Hipkins first meeting with an international leader since becoming Prime Minister in January.
Opening remarks
Anthony Albanese
"It means a lot to us as Australians that your first destination as Prime Minister is here to Australia."
"This reflects the priority that Australia and New Zealand place on our relationship and the deep friendship we now countries."
"A friendship that has been reaffirmed during our meeting stopping our discussion was naturally wide ranging, reflecting the depth of our relationship, which is about our economy, climate, security issues, and how we will work together to continue the plan that was established at last year's leaders meeting with former Prime Minister Jacinda Arden, including working through a range of issues relating to citizenship for Australians in New Zealand in which we intend to include before Anzac Day this year."
Chris Hipkins
"It is great to be here in Australia, New Zealand has no close friend or partner than Australia, and it is great to be here on my first international travel as Prime Minister of New Zealand. As you have mentioned, our countries are more than friends. We are family. The great trans-Tasman tradition, I am looking forward to working with you across a broad spectrum of issues that are important to both of our countries stopping I welcome welcome to our bilateral relationship, which was clear from our discussion, and in turn, I was happy to provide my government's commitment to continuing to work together and to continuing to strengthen the very strong transit Tasman relationship."
"We did talk about the 40th anniversary of our close economic relationship agreement that underpins a transit Tasman trade and is important to both countries - I echo the words of my predecessor in matters around deportations, and we discussed the ongoing work that we have around addressing some of the issues regarding New Zealanders who live and work permanently in Australia."
Deportation of New Zealanders
Albanese also spoke about the more commonsense approach to S501 deportations.
"We will put in place our policy, which is, I believe, a commonsense policy. We will retain section 501 of deportations and a capacity to cancel visas and remove people who pose a risk to the community. That has not changed [but] we will have a commonsense approach."
"Bear in mind, what a person's ties are to Australia when assessing these cases, that is commonsense. There is a big distinction between someone who comes to Australia as a teen or an adult and commits offences and someone who has zero connection back in New Zealand and might have come here as an infant and friends, as Australia and New Zealand are, should have commonsense approaches to these."
Traditional smoking ceremony
Earlier this morning, Chris Hipkins was formally welcomed to Australia by an Aboriginal smoking ceremony on the grounds of the NZ High Commission. The ceremony, conducted by Ngunnawal elder Wally Bell, involved Hipkins and other invited delegates walking through the smoke from burning eucalyptus. Hipkins was first to cleanse himself with the smoke, followed by High Commissioner Annette King.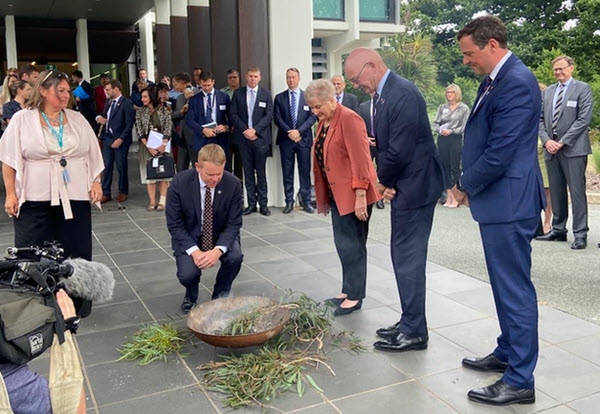 Chris Hipkins is formally welcomed to Australia (Photo: Stewart Sowman-Lund)
Read the Radio New Zealand transcript.
Watch the press conference video on Radio New Zealand.