Citizenship for child born to NZ 189 visa applicants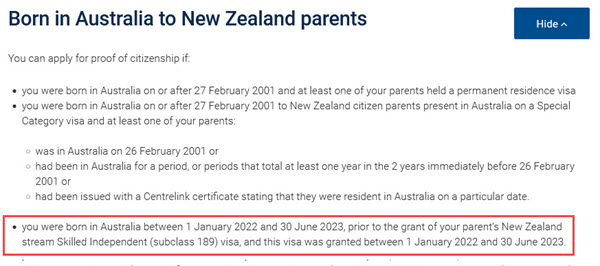 Citizenship for children born in Australia to New Zealand Stream 189 visa applicants.
Update
22 April 2023
The New Zealand stream 189 visa closed to new applications on 10 December 2022 and will close permanently from 1 July 2023. Applications already submitted will be finalised in the coming months.
New direct citizenship pathway
Following a review of New Zealanders rights in Australia the Albanese Labor Government announced that non-protected Special Category Visa-holders who have resided in Australia for at least the past four years can apply directly for citizenship from the 1 July 2023 without needing to apply for a permanent visa.
---
09 January 2023
In December 2022 Citizenship Minister Andrew Giles MP amended regulations for the Citizenship Act 2007. New Zealand Stream 189 visa applicants, granted PR between 31 December 2021 and 1 July 2023, will be taken to have been granted PR on 1 January 2022. This is in recognition of the extraordinary processing times for the NZ Stream 189 visa.
What does this mean for visa applicants?
NZ Stream189 visa applicants can apply for Australian citizenship from 1 January 2023. They do not have wait for 12 months. They still need to meet the other residency, health, and character criteria.
Citizenship for children born in Australia
A child born in Australia between 1 January 2022 and 30 June 2023, prior to the grant of their parent's New Zealand stream 189 visa, can apply for citizenship.
Related
Find out more information about acquiring Australian citizenship by birth.