New Zealanders' path to Australian permanent residency eased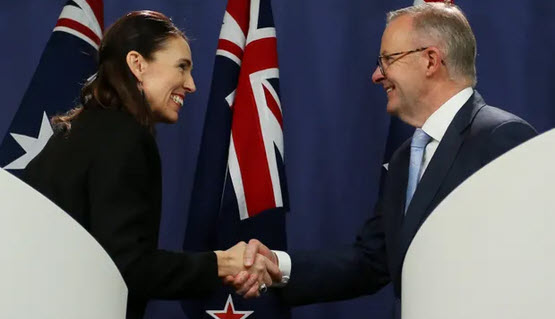 New Zealand Prime Minister Jacinda Ardern and Australian Prime Minister Anthony Albanese picutred in July 2022 (Photo: Lisa Maree Williams/Getty Images)
Paul Karp - Guardian Australia
20 December 2022
The Australian government has lowered the bar for New Zealanders who have applied for permanent residency. Under changes announced by the Home Affairs department, New Zealanders who applied on or before 10 December for a [New Zealand Stream] subclass 189 visa will no longer face hurdles related to income, period of residence and health conditions.
The move, enacted by regulation, will help clear a backlog of about 11,500 applications, slashing wait times from two years down to six months or less.
The chair of Oz Kiwi, Joanne Cox, which represents New Zealanders in Australia, said she was hopeful the new streamlined system would be expanded to ease the process of obtaining permanency for up to 300,000 New Zealanders.
The Australian government has temporarily paused new applications for 189 visas while it considers "future migration and citizenship pathways for New Zealand citizens in Australia, reflecting the close ties between our two nations", according to the Home Affairs department website.
[Read the full Guardian article]