Oz Kiwi gratitude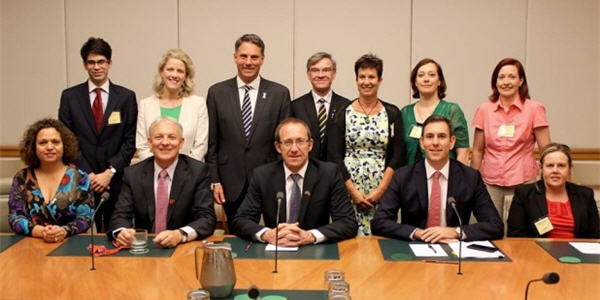 Canberra November 2015: Oz Kiwi met with now Minister for Home Affairs Clare O'Neil (back row, second left), now Deputy ALP leader and Minister for Defence Richard Marles (third left). Front row: former NZ Labour Foreign Affairs Minister Phil Goff (second left), then NZ Labour leader Andrew Little (Centre), with now Australian Federal Treasurer Jim Chalmers (second right).
27 April 2023
Oz Kiwi offers a heartfelt thanks to the following groups and people, without them the major reform announced on 22 April would not have come about.
Current Australian Labor Government
In particular:
Prime Minister Anthony Albanese
Deputy Prime Minister Richard Marles
Treasurer Jim Chalmers
Minister Clare O'Neil
Minister Andrew Giles
Minister Tony Burke
Minister Bill Shorten
Minister Tanya Plibersek
Shayne Nuemann MP
Minister Michelle Rowland
Senator Murray Watt (QLD)
Senator Anne Urqhart (TAS)
Terri Butler, former Federal member for Griffith
Australian High Commissioner to New Zealand Harinder Siddu and her staff
Current New Zealand Labour Government
In particular:
Prime Minister Chris Hipkins
Former New Zealand Prime Minister Jacinda Ardern
Minister Andrew Little (former NZ Labour leader)
Minister Nanaia Mahuta
Minister Grant Robertson
Phil Goff, Former New Zealand Deputy Prime Minister, Minister for Foreign Affairs
Minister Kelvin Davis
Minister Marama Davison, New Zealand Greens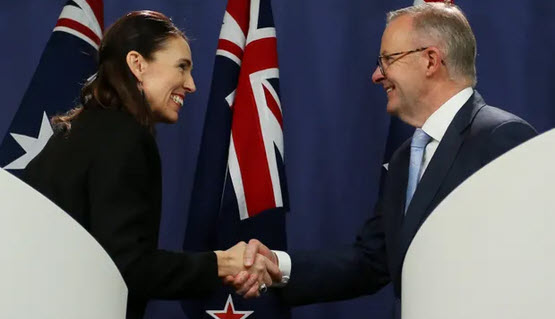 New Zealand Prime Minister Jacinda Ardern and Australian Prime Minister Anthony Albanese picutred in July 2022 (Photo: Lisa Maree Williams/Getty Images).
New Zealand High Commission to Canberra
Dame Annette King, High Commissioner to Canberra
Matthew de Witt, First Secretary
Eamonn O'Shaughnessy, Deputy Head of Mission
Chris Seed, former High Commissioner to Canberra
Andrew White, former First Secretary
Llewellyn Roberts, former Deputy High Commissioner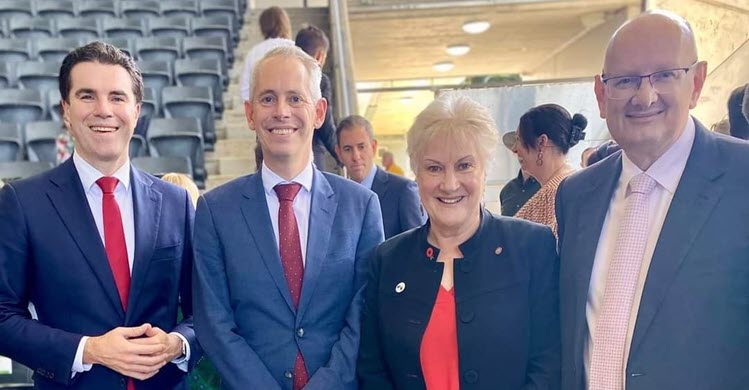 Tim Watts MP, Andrew Giles MP, High Commissioner to Canberra Dame Annette King, and Shayne Neumann pictured at a special citizenship ceremony in Brisbane on 23 April 2023.
Cross bench supporters (past and present)
Senator Nick McKim (Australian Greens)
Senator Hanson-Young (Australian Greens)
Senator Adam Bandt (Leader, Australian Greens)
Senator Jacqui Lambie (Jacqui Lambie Network)
Rebecca Sharkey MP (Independent)
Rex Patrick (former Independent)
Unions
United Workers Union (UWU)
The former National Union of Workers (NUW) now part of UWU
Advocates for change
Greg Barns, Barrister and human rights advocate
Australian Lawyers Alliance
West Justice
Anglicare
Nerang Neighbourhood Centre (QLD)
Media
Phil Pennington (Radio New Zealand)
1 News Australia correspondents Ryan Boswell, Conor Whitten & Andrew MacFarlane
Peter Mares, author of Not Quite Australian: How Temporary Migration is Changing the Nation