No change to Australia's position on New Zealanders out of work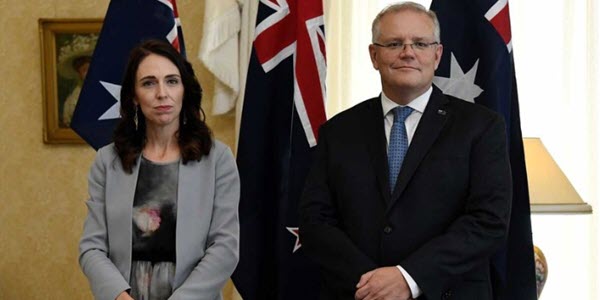 Prime Ministers Jacinda Ardern and Scott Morrison at Admiralty House in Sydney on 28 February 2020. (Photo: Bianca de Marchi/Pool/AFP)
28 March 2020
Radio NZ
The Prime Minister, Jacinda Ardern, says there has been no change to Australia's position on New Zealanders out of work due to Covid-19.
On Tuesday she pleaded with the Australian Prime Minister, Scott Morrison, to make an exception to the rule that bars many of the 650,000 New Zealanders there from receiving a benefit.
Ardern said she would continue to raise the issue with her Australian counterpart.
"New Zealanders who are in Australia are more likely to be employed, they earn more, they are Australia's best migrant workforce and I'd like to think they could be supported during this horrific time for everyone, alongside their fellow Australian workers."
New Zealanders resident in Australia, who had been financially affected by Covid-19 can temporarily access portions of their superannuation funds early.
Read the full Radio NZ article Radio NZ article.