Nearly 2,000 New Zealanders apply for citizenship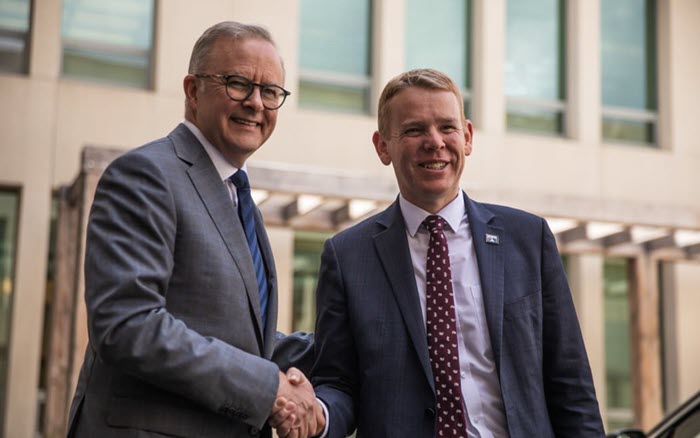 Prime Minister Chris Hipkins with Australian Prime Minister Anthony Albanese in April when the deal was announced. Photo: RNZ/Samuel Rillstone.
5 July 2023
Radio NZ
Almost 2,000 New Zealanders have applied for Australian citizenship, just days after the country's direct pathway came into effect. The new rules came into force on 1 July, giving New Zealanders who are on the Special Category Visa and have lived in Australia for four years a clear pathway to citizenship.
The Australian government announced a direct pathway to citizenship for New Zealanders in April, ending a tension between the two countries that had lasted for more than 20 years.
The Australian Department of Home Affairs said since 1 July, 1,962 New Zealanders had applied for the direct pathway. This was out of an estimated 300,000 New Zealanders living across the ditch who had become newly eligible after the law change.
Advocacy group for New Zealanders living in Australia, Oz Kiwi said the initial numbers for citizenship applications were promising, but it expected many more to come.
Chairperson Joanne Cox said she hoped the daily applicants would be in the thousands, with at least 10,000 by the end of the month.
"We expect over the course of the coming weeks and months that there'll be more people applying, not everyone is going to jump on straight away. Overall I think people are really excited and they're really happy to actually have had this application process starting," Cox said. "We just have to wait and see how long it takes for those applications to be finalised."
The Department of Home Affairs website said majority of its applications take five months or more to complete.
Read the Radio New Zealand article.