Citizenship reset and voting rights for Kiwis in Aus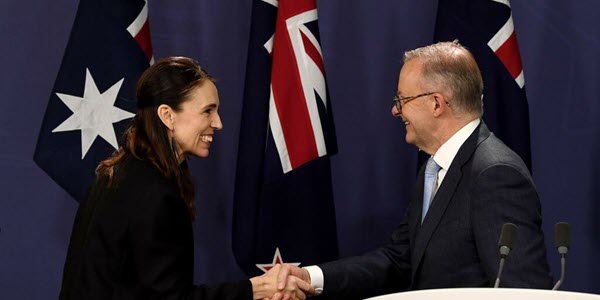 Citizenship reset for Kiwis announced by Anthony Albanese and New Zealand's Jacinda Ardern in Sydney. Image by Bianca De Marchi/AAP Photos.
Update
22 April 2023
Today the Albanese Labor Government announced that Non-protected Special Category Visa-holders who have resided in Australia for at least the past four years can apply directly for citizenship from the 1 July 2023 without needing to apply for a permanent visa.
---
08 July 2022
Phoebe Loomes and Maeve Bannister - AAP
New Zealanders living in Australia for more than a year could soon be eligible to vote and have an easier pathway to citizenship following discussions between the two nations' leaders.
A review of the citizenship and voting arrangement by an Australian parliamentary committee will be completed Anzac Day next year.
Australian Prime Minister Anthony Albanese said, "We want to work through these issues with all the implications that are there for full participation in our respective societies," he told reporters in Sydney on Friday. "We don't want people to be temporary residents forever."
Joanne Cox from Oz Kiwi, an advocacy group for New Zealanders living in Australia, told AAP a push to include expats in Australian polls would be well-received. "It's another step towards giving New Zealanders more rights and actually giving back the rights they have otherwise lost," she said.
Ms Cox said there had long been concerns about the settings of so-called Special Category Visa (SCV), which allows NZ citizens to live indefinitely in Australia.
Before the start of the pandemic, there were more than 600,000 NZ citizens in Australia on the visas. Most holders of the visa have restricted access to social security benefits.
[Read the full AAP article].
Related
Australian Labor support citizenship for all New Zealanders.