Australian census data show collapse in citizenship uptake by New Zealanders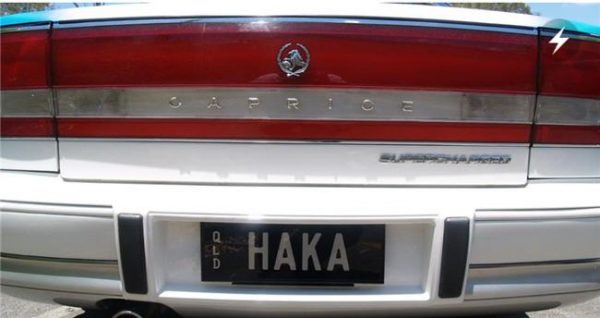 Personalised number plate photo taken at a Waitangi Day celebration in Brisbane. (Photo: Paul Hamer)
Oz Kiwi opinion
Oz Kiwi would urge New Zealanders living in Australia to become Australian citizens, if at all possible.
Remember that unlike Australian politicians New Zealanders can hold dual citizenship if they become an Australian citizen!
Find out your options for Australian citizenship, including the new direct citizenship pathway available from 1 july 2023.
---
Australian census data show collapse in citizenship uptake by New Zealanders
23 August 2017
Paul Hamer and Andrew Markus - first published in The Conversation
The latest Australian census data provide further confirmation that a controversial 2001 law change affecting New Zealanders living in Australia has led to a collapse in the number of Kiwis who become Australian citizens.
Of the 146,000 New Zealand-born migrants who arrived in Australia between 2002 and 2011, only 8.4% had acquired Australian citizenship by 2016. As a subset of this, New Zealand-born Māori are particularly disadvantaged, with a take-up rate of just under 3%.
Moving the goalposts
There is a longstanding tradition of free movement of people between Australia and New Zealand. It was confirmed in the Trans-Tasman Travel Arrangement of 1973, which marked Australia's lifting of racial restrictions on non-white or non-Māori New Zealand migrants.
Each country applies its own rules to the entitlements of citizens from the other country. Australians moving to New Zealand acquire the full rights of residents in New Zealand after reasonably short waiting periods (one year before voting, two years before getting social security) and can apply directly for citizenship.
However, since a legal change was introduced by Australia in 2001, New Zealanders moving across the Tasman are denied a pathway to citizenship, unless they can acquire a skills-based permanent visa.
They may be living in Australia permanently, but their visa is regarded as temporary. It is dependent on the maintenance of New Zealand citizenship and expires whenever they leave the country.
NZ versus other nationalities
This stands in contrast to other settlers in Australia, for whom the acquisition of a permanent visa usually becomes a stepping stone for entry to the country.
The cumulative impact of this exclusion of New Zealanders becomes clear in the 2016 Australian census results. The following graph indicates the take-up of citizenship after the qualification period of four years.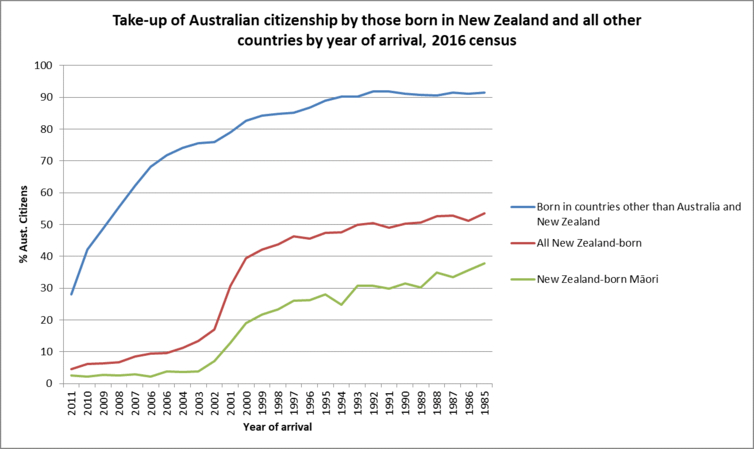 Australian citizenship uptake by New Zealnders versus other arrivals, Paul Hamer 2016.
We can see that, over time, almost all settlers from third countries become Australian citizens. Those born overseas (excluding New Zealand) who arrived between 1985 and 2000 have take-up rates of citizenship of 80% to 90%.
New Zealanders have always had a much lower take-up rate because citizenship had little bearing on their rights before the 2001 legal change. Of the New Zealand-born people arriving in Australia between 1985 and 2000, only 40% to 50% have taken up citizenship - roughly half the rate of those born in other countries.
But since 2001, the access of New Zealanders to Australian citizenship has almost collapsed. This is especially so for New Zealand-born Māori, who are less likely to be able to meet the skills requirements or the cost of a permanent visa.
If we take the year of arrival of 2008 as an example, we can see that 55.5% of those born in third countries are Australian citizens. However, only 6.8% of all New Zealand-born migrants who arrived that year are citizens, including only 2.5% of Māori.
Contrast with a decade ago
To make sure that this drop off among recent migrants is not a particular feature of New Zealanders' take-up of citizenship in Australia, we compared the 2016 census results with those of 2006.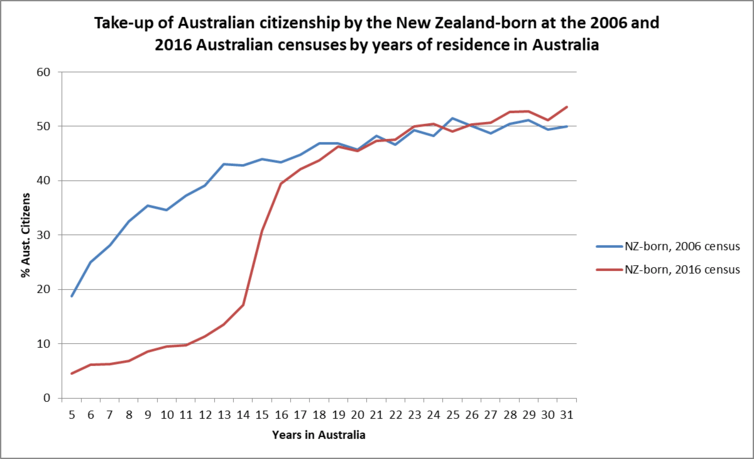 Australian citizenship uptake by New Zealnders in 2006 and 2016, Paul Hamer.
We can see that, in 2006, there was a much more gradual decline in the take-up rate of Australian citizenship by New Zealanders among more recent arrivals. There was no sharp dog leg in the line as in 2016.
This confirms that the 2001 law change has caused the take-up rate of citizenship by New Zealand migrants to drop dramatically.
In 2001, the Australian government considered that about 40% of New Zealand settlers would qualify for a permanent visa, and thus be able to go on to acquire citizenship.
The reality is, however, that far fewer have applied. The census data show that more than 220,000 New Zealand-born migrants have arrived in Australia since 2002, following the law change. However, according to Department of Social Services data, only 14,500 permanent visas have been granted to this group over the same period.
Many are likely deterred by the expense and uncertainty of the process. A base application fee is A$3,670 for an individual and, with associated costs, it would set a family of four back more than A$10,000.
A new pathway
From July 1 this year, New Zealanders who arrived between February 2001 and February 2016 became eligible for a new permanent visa, this time dependent not on Australia's skills requirements but on having earned above the temporary skilled migration income threshold of A$53,900 for five successive years.
This provides the opportunity for many thwarted by the skills test to acquire a permanent visa. But the same steep fees apply and, once again, the Australian government's assessment was that no more than half of the 140,000 New Zealanders who had been in Australia for at least five years would be eligible.
The introduction of this visa will not help those most in need of government help, and it remains doubtful whether it will significantly change New Zealanders' take-up rate of Australian citizenship. In the first month, the number of applications was lower than expected.
Note: the New Zealand Stream 189 Visa closed to new applications from 1 July 2023. From that date New Zealanders became eligibile to apply directly for Australian citizenship.
Critics of the government's currently proposed amendments to citizenship law argue that they are unjustified and will do little for social cohesion. Peter Hughes, a former senior official in the Department of Immigration, described them as:
… turning the whole inclusive idea of Australian citizenship since 1949 on its head.
It is timely to remember that the single biggest exclusion of Australian citizenship since 1949 arguably occurred in 2001, and that New Zealanders in Australia continue to live with its consequences.
Read The Conversation article.
---
The Authors
Paul Hamer - Research Associate, Te Kawa a Māui - Māori Studies, Victoria University of Wellington
Andrew Markus - Pratt Foundation Research Chair of Jewish Civilisation, Monash University
Disclosure statement
Andrew Markus has received grants to research Australian public opinion from the Scanlon Foundation, the Australian Research Council and the Australian government.
Paul Hamer does not work for, consult, own shares in or receive funding from any company or organisation that would benefit from this article, and has disclosed no relevant affiliations beyond the academic appointment above.