Pacific Islanders and education - is Australia an 'unlucky country'?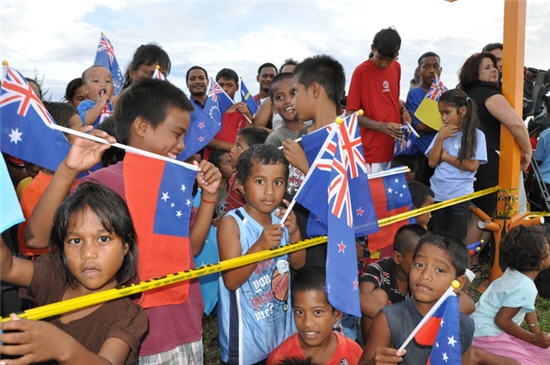 The future for migrant Pacific Islanders in Australian education isn't promising.
10 February 2014
Lesley Chenoweth - Professor of Social Work, Griffith University
Historically, geographically, culturally - there are many points of comparison between Australia and its neighbour to the east, New Zealand. But there are notable differences.
This week, The Conversation, in conjunction with Griffith Review, will publish essays examining issues of marginality and modernity. We'll run articles on the arts, the environment; on the economic and emotional ties that bind people to land, and land to the rest of humanity. We'll take a fresh look at the 21st century world that exists just beyond the ditch.
Thousands of Australian school leavers have spent days this summer contemplating their futures. For some this is a no-brainer. Studying at university is the obvious choice, with approximately 223,000 starting in February in over 30 universities across Australia, following their dreams to be an engineer, a nurse, a town planner or gain that business degree.
But for the 23,000 members of the Pacific Islander community in south-east Queensland, the post-school options are far more limited. Most come from families who are struggling financially, so the pressure to get a job - any job - far outweighs any aspirations to aim higher.
It will cost more for New Zealand or Pacific Islander citizens to go to university than their Australian counterparts.
Pacific Islanders in Logan
Griffith University's Logan campus is located in the heartland of Australia's Pacific Islander population. Logan is famous for its diversity: it has over 200 ethnic and cultural groups, new refugee arrivals mashed together with Aussie battlers, semi-rural landholders and middle-class families.
Here too are those seeking a better life who travel from the Pacific nations such as Tonga, Samoa and Kiribati via New Zealand to south-east Queensland. Some families have settled here for decades. The Logan-Gold Coast corridor population is 9 percent New Zealanders, compared to the national average of 2 percent.
Immigration data shows that 648,000 New Zealanders live in Australia, up from 470,000 in 2007 before the global financial crisis. Almost 85,000 Kiwis were born outside New Zealand.
One in eight of these migrants gained New Zealand citizenship before moving to Australia. 10,592 New Zealanders were born in Samoa, 5269 in the Cook Islands and 2754 in Fiji.
The Pacific Islander population is now so strong that many of Logan's schools have almost 50 percent islander students. A visit to Woodridge, Mabel Park and Marsden high schools confirms the dominance of Pasifika cultures.
The progression through school soon reveals a problematic journey for many and a distinctly gendered pattern. Year 12 classes in many Pacific Island schools tend to have more girls than boys. Griffith's Logan campus is 80 percent female. What happens to boys is of concern to families and the community.
The Logan Campus is Griffith's focal site for community engagement and outreach, building aspiration and widening participation for non-traditional students. Griffith staff have been working with the Pacific Islander community for several years to build aspirations and the capacity to get more young people into tertiary study and succeed there.
It's a complex space for engagement. The stories of families, young people and teachers produce an array of interrelated factors that influence their education and journey to work.
Social security agreements
In 2001, Australia and New Zealand endorsed a new bilateral agreement on social security. This agreement created two types of visa holders: those with protected Special Category Visas (SCVs), who were residents in Australia on or before February 26, 2001, and those with unprotected SCVs, who arrived after that date.
Holders of unprotected SCVs are regarded as temporary residents. They do not qualify for full social security benefits until they have obtained a permanent visa and met the two-year waiting period for newly arrived residents.
These exclusions apply to HECS-HELP for higher education course fees. School leavers who came to Australia after 2001 cannot defer HECS or apply for loans to cover it.
Financial challenges
While most students experience some financial hardship in attending university, finance represents a major resource constraint for refugee and immigrants students.
For Pacific Islander students, the need to pay HECS up front is a major obstacle for families who are already struggling to meet daily needs. Many Pacific Islander families have skills and experience that limit employment opportunities to lower-paid sectors, such as manufacturing and service industries.
Additionally, employment is often highly casualised and seasonal. Income fluctuates in families that are often larger and include extended family and relatives needing support. Young people are under real pressure to start earning as soon as possible, even if for low wages and an insecure employment future.
Poor education outcomes
Academic performance presents another challenge. Many Pacific Islander children come into the broader category of "Children for whom English is an Additional Language" (CEAL), but the data kept on these children are not disaggregated to distinguish Pacific languages. Therefore, it is difficult to gain an accurate picture of how these children are or could be supported with literacy.
In this community, Pacific Islander families are low users of pre-school and childcare. Many children are not educationally prepared for school from the outset.
We also know, anecdotally, that many Pacific Islander children do not meet educational benchmarks by Year 9 and many fail Year 12 English. Limited access to technology in the home is also a barrier, given IT skills are so prevalent with pre-schoolers and essential now to the learning experience at school and beyond.
Many parents are unable to provide computers in the home or limit use to older children. Once at university - for those who do make it through - there are often knowledge gaps that become problematic for higher learning. If you didn't actually grasp long division in Grade 3 or quadratic equations in Year 8, doing business maths or drug calculations in nursing is going to be tough.
Family expectations and roles
Family expectations are important indicators of educational goals and outcomes. For example, we know that school leavers' attendance at university is strongly correlated with whether their parents attended and therefore have expectations that their children will also study for a degree.
However, the cultural expectations of many Pacific parents may differ significantly from the practices and thinking in schools and universities. For example, the traditional Pacific expectation of unquestioning obedience and respect for authority figures can mean that parents encourage their children to "sit and listen to the teacher" and discourage questioning and critical thinking.
We know that a sense of identity is crucial to continued academic failure and educational success. It has been argued that Pacific students have fewer opportunities to create their own identities. The pattern tends to be to conform to or rebel against the identities that have been constructed for them by their families and the wider culture.
Towards higher education success
Griffith's Logan campus has been working alongside Pacific Islander communities for several years as part of its broader community-university engagement agenda.
This work has focused on reaching out to and inviting into the university members of Pacifika communities. The program encourages aspirations for university study, builds capacity of current and future students and enhances community engagement with higher education.
The outreach activities involve future Griffith students, specifically the LEAD (Legacy-Education-Achievement-Dream) Project. LEAD operates through local high schools, engaging with students and the wider community.
LEAD activities aim to enhance student leadership skills, increase self-confidence and empower a range of at-risk students to transform their outlook and learning through the process of identifying and actualising their goals. LEAD has achieved excellent outcomes and won several awards locally and nationally.
Other participation activities involving current Griffith students has been the establishment of the Griffith Pasifika Association. This is a student body bringing together Pacific Islander students, developing leadership and supporting success, and the Pasifika Cultural Graduation, a community-based celebration of graduating students with their families and the whole community.
Bringing parents on to campus and hosting other cultural events have also been pivotal to advancing engagement and participation.
One of our wider outreach activities - especially directed at young men - has been through sport. The Logan community and in particular the Pacific Islander community are avid rugby players and fans. The establishment two years ago of the first university rugby league team at Logan, the Logan Redbacks, is emerging as a positive "hook" for getting young men to university.
The current construction of a new sports field at Logan campus is being inspected with interest by local hopefuls.
Scholarships are another important financial boost for students from a low socioeconomic background. Partnerships with service clubs, local banks and law firms have been instrumental in providing scholarships and bursaries that help with fee payment, books and other study needs.
These are still small in number, but sometimes just $2000 is enough to leverage a decision to apply rather than to keep working at the local fast food outlet.
Complacency is not an option
In 2013, then-higher education minister Craig Emerson announced proposed changes to the Higher Education Act 2003 to provide access to HECS-HELP for New Zealand residents. To be implemented in 2015, this was a promising move and the local community was cautiously optimistic.
However, this did not progress before the 2013 federal election and seems to be off the new government's agenda. [Limited access to HELP loans was granted from 1 January 2016]. For the 600,000 New Zealand residents in Australia, this is yet another stark reminder of the inferior status and social exclusion of those on unprotected SCVs. While they can continue to work and pay taxes, they cannot vote, access social security, work in Australian government positions or access student loans.
Addressing these issues requires a commitment to the long haul. It means meaningful engagement and partnerships with the Pacific Islander community from early childhood through to schools and university.
Meanwhile, in Logan, more children born here are attending school, playing sport, working in menial jobs and paying taxes. Some young people in high school are the sole earners in their families, despite only being able to work part-time. Some end up homeless, or just hanging around and couch surfing.
But without doubt, Pacific Island young people are missing out on all the opportunities that higher education offers.
Read the original Griffith University article.
---
The co-editors of Griffith Review: Pacific Highways, Lloyd Jones and Julianne Schultz, and contributors will be discussing all things New Zealand at The Wheeler Centre in Melbourne (Feb 26), National Library of Australia in Canberra (Feb 27), Adelaide Writers Week (Mar 3) and New Zealand Writers Week (Mar 12).
Disclosure statement
Lesley Chenoweth has received funding from the ARC. She is affiliated with Griffith University. Provides funding as a Member of The Conversation
---