Trans-Tasman relations to take new level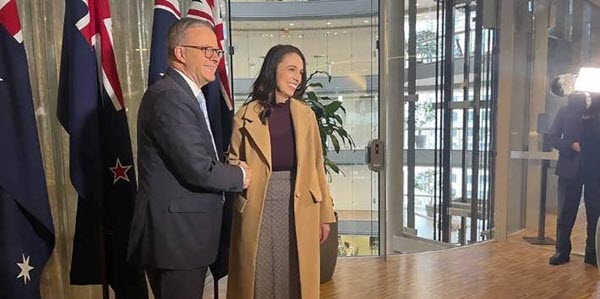 Trans-Tasman relations to take new level: PM Jacinda Ardern meets her counterpart Anthony Albanese in Sydney for their talks. Photo: Bridie Witton/Stuff
Oz Kiwi opinion
At today's press conference both Prime Ministers mentioned they discussed expat New Zealanders in Australia and a pathway to citizenship. Anthony Albanese also said that Ministerial meetings well be held next month to work through how it will be dealt with.
---
Trans-Tasman relations to take new level
10 June 2022
Bridie Witton - Stuff
Trans-Tasman relations will be taken to the "new level", Australian Prime Minister Anthony Albanese says, with "new jobs, new growth and new opportunities to cooperate". New Zealand Prime Minister Jacinda Ardern and Albanese held their first bilateral meeting since his Labor government took office late May.
Ardern said they also discussed the nation's "partnership" approach on foreign policy in the Pacific, Russia's attack on Ukraine, the Christchurch call commitment to eliminate terrorist and violent extremist content online, indigenous policy as well as the climate crisis.
"I was also heartened by acknowledgement of… the treatment of New Zealanders here in Australia," she said.
[Read the full Stuff article].
Related
Australian Labor support citizenship for all New Zealanders