Review of visa cancellation processes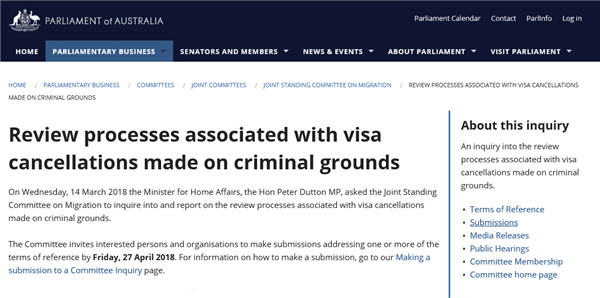 Submissions now published
11 May 2018
The Joint Standing Committee on Migration have now published the submissions received for the inquiry into the review processes of the Administrative Appeals Tribunal.
---
Review of visa cancellation processes
14 March 2018
On Wednesday, 14 March 2018 the Minister for Home Affairs, the Hon Peter Dutton MP, asked the Joint Standing Committee on Migration to inquire into and report on the review processes associated with visa cancellations made on criminal grounds.
The Committee invites interested persons and organisations to make submissions addressing one or more of the terms of reference by Friday 27 April 2018. For information on how to make a submission, refer to the Making a submission to a Committee Inquiry page.
Before making a submission ensure you have read the inquiry Terms of Reference.