Report into the Farm Household Allowance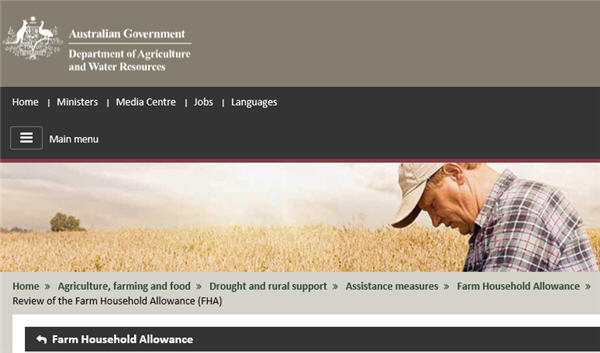 Source: Department of Agriculture and Water Resources
09 October 2019
The Australian Government commenced a review of the Farm Household Allowance (FHA) program in October 2018.
The FHA review final report Rebuilding the FHA and the Australian Government's response to the report's recommendations are now available.
Background
Farm Household Allowance provides help for farmers facing hardship, particularly during drought. The allowance commenced on 1 July 2014 and formed part of the Commonwealth's contribution to the 2013 Intergovernmental Agreement on National Drought Program Reform.
Eligibility
A number of representations were made from groups that are currently ineligible for the program. Expanding the eligibility criteria is out of scope for the Review, however, the review Panel is flagging these representations to the government for its consideration.
New Zealanders
Written representations were made by the New Zealand Government and Oz Kiwi on behalf of New Zealand citizens on the non-protected Special Category Visa. The Panel notes that access to benefits, such as social security, by citizens of other countries or specific visa categories was a matter for the government to decide in the context of foreign, diplomatic and immigration policy.
Written submissions
Over 33 written submissions were made to the Farm Household Allowance (FHA) review. Eleven of these were submitted as confidential, including one from New Zealand Ministry of Foreign Affairs and Trade. Non-confidential submissions can be found on the FHA Have Your Say web page.
Recommendations
Review of the Farm Household Allowance
Farm House Allowance report PDF
Oz Kiwi Farm Household Allowance Submission