Public meeting to discuss issues affecting New Zealanders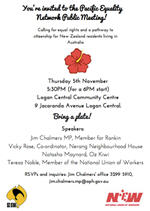 05 November 2015
In conjunction with the National Union of Workers and Jim Chalmers, Federal Member for Rankin, we will be holding a public meeting to discuss issues affecting New Zealand citizens living in Australia.
This event is being held in Jim Chalmers electorate:
5 November 2015 - 5.30 pm for a 6.00 pm start Logan Central Community Centre 9 Jacaranda Ave Logan Central
This is a free event, and we encourage anyone who can make it to attend, this is a great opportunity to meet a Federal MP, ask questions and have your say. If can, bring a plate to share. RSVP as per the attached flyer or send us a private message.