Oz Kiwi witness at Senate Citizenship Bill hearing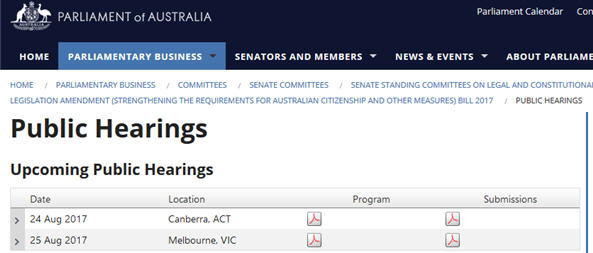 Oz Kiwi will be a witness at a public hearing by the Senate Standing Committees on Legal and Constitutional Affairs.
Oz Kiwi will be a witness at a public hearing for the Senate inquiry into the proposed Citizenship Bill this Friday, 25th August 2017. Our Chair, Deputy Chair and Secretary will be representing Oz Kiwi.
Oz Kiwi will be making its submissions and answering committee questions.
Where: Stamford Plaza, 25 Little Collins Street, Melbourne
When: 9.00 am AEST, Friday 25 August 2017
If you are in Melbourne, you can attend the hearing to watch. Audio of the hearing will also be broadcast live on the Australian Parliamentary website.
The Legal & Constitutional Affairs Legislation Committee have published the Program and Submissions from the organisations attending Friday's hearing in Melbourne. The Hansard transcript of the hearing will be published in the coming days.