Oz Kiwi representatives in Wellington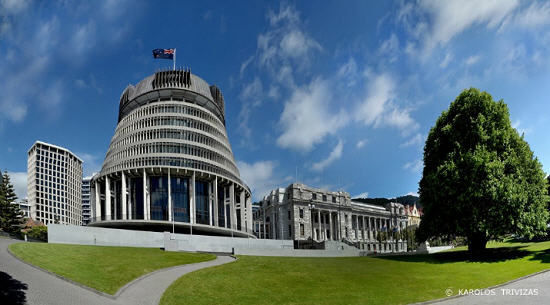 The Beehive and Old Parliament building in Wellington (Photo: Karolos Triviza)
23 August 2016
Two Oz Kiwi volunteers arrive in Wellington tomorrow, Wednesday 24th August, to continue pushing for a solution to the issues faced by Kiwis in Australia. This trip builds on our meetings in Canberra in June and November 2015.
There is growing support for change in Canberra and Wellington, and we must ensure we maintain momentum. After fifteen years, we can begin to see cracks in the Australian political consensus on this issue - there is an increasing recognition that the current situation is unsustainable. Our delegation will seek to turn this recognition into action.
While in Wellington Oz Kiwi will be meeting with:
senior New Zealand Labour MPs, including Leader Andrew Little and Deputy Leader Annette King;
Marama Davidson, Green Party of Aotearoa New Zealand spokesperson for Maori Development, Social Housing, Human Rights & Pacific Peoples; and
officials from the Ministry of Foreign Affairs & Trade (MFAT) and the Ministry of Social Development (MSD).
Regretfully, we were not offered any meetings with National Party Ministers, Associate Ministers or senior advisors.
The issues
Topics under discussion in Wellington will include:
acccess to the National Disability Insurance Scheme (NDIS)
access to HELP Student Loans
entry to the Australian Defence Force
proposed new pathway to permanent residence
a fair pathway to citizenship for long-term residents
support for those who fall on difficult times
insurance discrimination
detention & deportation of New Zealanders.
The Oz Kiwi volunteers have paid their own expenses for Wellington, and Members cover the general running costs of the Oz Kiwi Association along with donations of supporters.
Most of our Members and Committee are dual Australian/New Zealand citizens but continue to work tirelessly to help those shut out of a FAIR pathway to citizenship. The kind donations (koha) of supporters are critical to the running of the organisation. With nearly 40,000 supporters, if even a half donated just $1 we can do more and continue our work. Any amount however small is gratefully received.