Number of NZers on Christmas Island doubles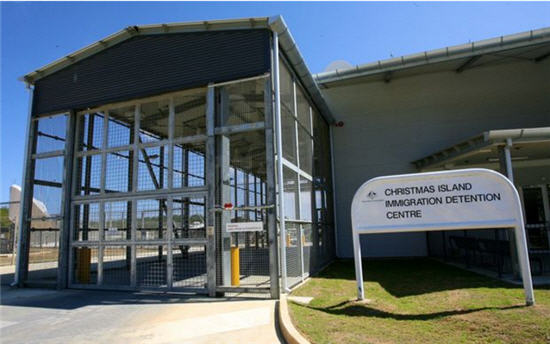 Christmas Island Detention Centre Photo: Wikicommons
Oz Kiwi comment
More bad news on the detention of jailed Kiwis, they are being sent to Christmas Island once more.
Radio New Zealand this morning spoke to a detainee on the island, who really is risking his future by speaking publicly on this.
It is important to note that not only New Zealanders are affected by s501 of the Crimes Act, amended in December 2014 to mean that any total of 12 months worth of sentencing can see your residency visa revoked. Many nationalities have been deported: English, Irish, Croatian, Chilean, Swedish, Malaysian have also had their visas revoked and sent to their homeland. However given the large number of Kiwis who can reside long term on a temporary visa they are being disproportionately affected by the law change.
It is the harshness of this 'double jeopardy' that is objectionable, where they do the time but then are punished further for a sentence, often less than two years, by being removed from the country they grew up in.
---
Number of New Zealanders on Christmas Island doubles
2 August 2016
Phil Pennington - Radio NZ
The number of New Zealanders held at the Christmas Island detention centre has reportedly doubled, and conditions are getting worse since last year's riot, a detainee says.
The detainee said 15 men were being flown in each week from Australia, and total numbers have gone from 80 to 160, most of them New Zealand citizens.
Australia's Human Rights Commissioner has criticised secrecy around the remote Indian Ocean island and wants to send a team there to check it out.
His is the first direct contact RNZ has had from the island since guards and police put down a three-day riot that Canberra said caused $A10 million in damage.
"There's probably 160 or something detainees. The majority of them are all New Zealanders, just a few of the boatie people [asylum seekers].
"Just recently there's been about 15 blokes every week, the numbers are just increasing at the moment because there's a couple of compounds empty and available, … and I heard there's going to be some more flights coming in twice a week."
RNZ has agreed not to name the detainee, who fears retribution by authorities, though he said the centre's operator Serco would in any case be monitoring his phone call.
He said the new arrivals were from Sydney, Brisbane, Perth and other areas as some detention centres on the mainland were closed.
Numbers had dropped as low as 80 after the riot, he said, when dozens of New Zealanders - some blamed for the conflict - were sent to mainland jails. Since then it had been tougher; they were now locked in their compound 20 hours a day, had less access to green space, and until recently could only talk to their lawyers on a phone at the office, so it was not confidential.
Most of the guards were aggressive and did not treat detainees as humans, so he just kept his head down and had not been abused by guards, the detainee said.
"I heard a lot of stories about it, they are capable of doing anything they want to do. If you are playing up and that, they will come in, take you out of the compound, put you in a car, cos there's no cameras or nothing inside the cars and that - they can just tap you up and do whatever they want to do to you when they are driving you up to the slots … that's the punishment unit.
"Seen some boys come back with badly bruised up eyes and faces."
The man said he had been on the island for 10 months, and lost his visa due to two convictions for assault.
He has five children in Melbourne and has lived in Australia for 22 years.
RNZ was told in April that some detainees were beaten by guards, appealed and got immigration officials to come to the centre to take their complaints.
But this detainee did not know about that, and had not seen anyone come to the island to ask about conditions.
Christmas Island 'extremely convenient'
Australia's Human Rights Commissioner Gillian Triggs said the island set-up was illegal and unsustainable - but, conversely, here to stay because the government was untouchable as the power to hold people indefinitely sat with the Immigration Minister.
"They are finding Christmas Island an extremely convenient place to have, because if you take troublesome prisoners out of the mainland and put them four hours flight out of Perth, they are much less able to have access to what legal recourse is available and they don't attract as much attention politically in Australia," Professor Triggs said.
She described the island as "dangerous".
Barry Haase, the government-appointed administrator of the Christmas Island facility said RNZ's questions about the detainees were a "waste of time" and he was more interested in the local darts club than the detention centre.
RNZ contacted the Department of Immigration and Border Protection for comment. The department has not previously granted interviews.
Professor Triggs fears her attempt to break through the isolation will be blocked.
"You can't simply fly at your own behest to Christmas Island," she said. "I have to have authority to go and that will depend on whether the Department of Immigration will give it to me.
"But I will certainly be talking to the immigration officials to see if they would agree to me and a team from the commission going there to see what those conditions are like."
Read the Radio NZ article.