Little-known Australian citizenship pathway revealed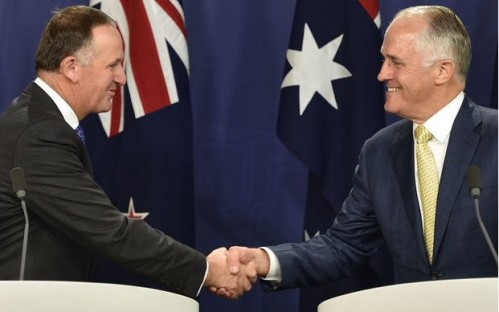 New Zealand Prime Minister John Key and Australia's Prime Minister Malcolm Turnbull at a joint press conference in Sydney.
23 February 2016
By Phil Pennington - Radio NZ
Tens of thousands of New Zealanders remain in the dark about a fast-track way of getting Australian citizenship which has been there for decades but has only recently been tested out.
On Friday, Australian Prime Minister Malcolm Turnbull announced a new pathway to citizenship which is not about work skills but money; people must earn at least $NZ57,000 a year for five years before they are eligible - and that still locks out many New Zealanders who do not meet that new income measure.
The other, once-hidden, pathway is not like that.
Lobby group Oz Kiwi spokesman Tim Gassin said it could be as simple as just popping into the local immigration office across the Tasman and inquiring about a Resident Return Visa (RRV), which is open to any New Zealander who spent any amount of time in Australia before 1 September 1994.
"People go in there and we've heard of cases where … by the time they've got home and checked their emails, they've got an email confirming they have been granted this visa," he said.
"Even people who have been there literally for two hours, get off the plane, had a few hours to kill between a flight, and that has been enough to have their permanent residency reinstated.
"Really, it doesn't matter how long you were here. The simple fact that you crossed Australian immigration control as a New Zealand citizen before September '94 - and it doesn't really matter whether you came on your own passport, whether you came as a child on your parent's passport or you came in the period before there were passports."
Serving up an Resident Return Visa
Joanne Cox got her Resident Return Visa by virtue of a 10-day trip to see the Australian Open in early 1994.
But she found out about the visa option from a surprising source - top immigration official David Drummond.
He cottoned on to New Zealanders' special status, told Ms Cox and others at Oz Kiwi about it, and set about seeing if it actually worked .
"He got our group, at least a dozen of us, to go through the various immigration offices around the country, and get processed and find out what the hiccups were," she said.
"And he literally got on the phone with the Paramatta office or the Lonsdale Street, Melbourne, office, wherever there was a hiccup, and explained to them. We were the guinea pigs and it worked very well."
Ms Cox and her sister, Liza Cox, emerged with RRVs in 2013 and both now have citizenship.
So, too, tourism company directors Melinda Loe and husband Hohepa Ruhe, who since 2001 had hit brick walls as they did not meet the work skills criteria despite earning big state government salaries.
"There was a couple of people who went first and tested it out and then we kind of thought, 'oh yeah, well it seems to be working, let's give it a go'," Ms Loe said. "It's the only pathway to citizenship."
Ms Loe got her RRV within hours of applying for it.
Ms Cox said it could virtually be done over the phone, although some immigration offices, such as in Cairns, remained troublesome.
Wellington man Paul Hamer, who is doing his PhD on how Australia's 2001 law changes hit Maori, said RRVs were an especially good option for those the new income-based pathway would not help.
"For many Maori and Pacific Islanders who haven't been able to meet the skills requirements under the previous regime that applied until last Friday, and continues to apply for newly arriving New Zealanders, and who don't meet that income threshold, the RRV is a very inexpensive, viable option for them to get them a permanent visa and therefore citizenship after that," Mr Hamer said.
People could apply for citizenship once they had lived in Australia for four years and had an RRV for at least one year.
Also, Ms Cox said getting an RRV set the clock ticking on a two-year wait until the holder became eligible for some benefits and student loans otherwise entirely denied to New Zealanders on less permanent visas.
Hohepa Ruhe, of Lake Conjola, described it as a chink in Australia's immigration armour which might open things up for 50,000-60,000 New Zealanders - 10 percent of the 600,000 over there.
But he and Liza Cox were mindful of all those too young to get an RRV under the magic 1994 formula.
"Being a New Zealander in Australia, there's a few magic dates that if you were lucky enough to have been here on the date or prior to that date then you win the lottery, and I was lucky to be one of those people," Liza Cox said.
Official figures show a growing number of people of all nationalities getting an RRV, from 90,000 in 2013 to 120,000 last year.
But Mr Gassin believed only a few thousand of the tens of thousands of eligible New Zealanders even know about it.
Read the Radio NZ article.
Related Radio NZ audio
Pre-1994 visit to Australia gives NZ migrants more options