Important News - Citizenship Amendment Bill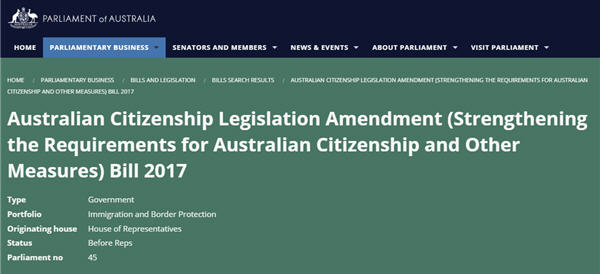 Update
18 October 2017
The proposed citizenship changes will not be implemented after the Citizenship Amendment Bill was struck down by the Senate today. Oz Kiwi can now confirm that current citizenship law applies.
---
16 August 2017
We are pleased to let everyone know that Oz Kiwi is one of only 11 organisations to be asked by Committee representatives to appear as a witness at the Legal and Constitutional Affairs Committee Senate inquiry into the Citizenship Amendment Bill. This is a result of our submission to the inquiry.
This is a great honour, opportunity and responsibility, one we are not taking lightly - especially given the volume and the quality of the submissions made by some amazing not-for-profit organisations, and individuals.
The hearing is open to the public, though it is formal and only those individuals and organisations asked to appear as witnesses can speak. You can also listen live (audio only) via the Parliamentary website.
Date: Friday, 25 August 2017
Time: commencing at 9:00 am
Location: Thornbury Room, Stamford Plaza, 111 Little Collins St, Melbourne VIC 3000
Thank you to those who took the time to make a submission. We have been informed this is one of the largest volumes of submissions received by the Legal and Constitutional Affairs Committee. We're certainly being heard - so do not ever think that a letter, a phone call or a meeting is a waste of time.