How Kiwis in Australia are disadvantaged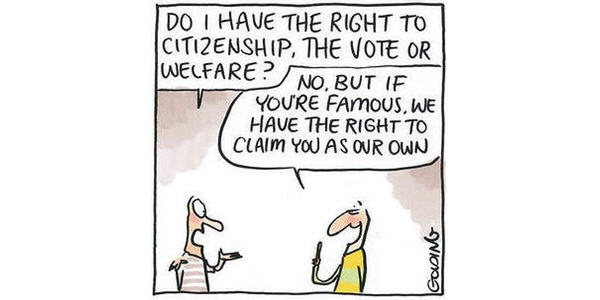 Illustration: Matt Golding
01 August 2013
Timothy Gassin - Former Chair Oz Kiwi
Why the 2001 law changes were wrong and how it has become worse ever since.
Before 26 February 2001, New Zealanders moving to Australia were considered by the Government to be 'permanent residents'. (Currently this is the status the New Zealand government continues to give Australians). This made sense because it took into account the fact that Kiwis have a right to live in Australia long-term. So for every law on the books that said "You must be a permanent resident or Australian Citizen to do X", New Zealanders were able to meet those definitions. There was a 2-year waiting period for government payments, which is still in force for other immigrants arriving in Australia today.
Children born to Kiwis were granted Australian citizenship at birth. Kiwis were eligible forstudent loans, allowing children to grow up and access tertiary training. Kiwis were eligible to apply for citizenship after two years. Essentially, they were treated as any other immigrant or Australian Citizen with certain exceptions such as voting. The few rights that New Zealanders did not possess they could easily gain by applying for citizenship.
In early 2001 the government changed social security law (note: not immigration law). They amended the Social Security Act 1991 to state that only New Zealanders who arrived in Australia on or before 26 February 2001 would be considered permanent residents. And that. At the same time, a ministerial declaration was issued stating that Kiwis who arrived after 26 February 2001 would no longer be considered to fulfil the residency requirements under the Citizenship Act and thus unable to apply for citizenship. Those who arrived before and after that date hold exactly the same Special Category Visa, yet on those in the former category are considered to hold a 'permanent visa' for citizenship purposes.
These were not changes to immigration law or policy. The terms 'Protected' and 'Non-Protected' applied to Special Category Visa holders do not exist in the Migration Act and are only a product of the Social Security Act 2001.
From 27 February 2001, Kiwis moving to Australia became ineligible for most government payments and, not being considered permanent residents in the Citizenship Act, their visa's status means they remain "indefinitely temporary". Suddenly Australian-born children of New Zealanders no longer acquired citizenship, because his/her parents are not "permanent residents" of Australia. They now have wait until the age of ten for citizenship to be granted.
The solution sold to the public was that if New Zealanders wanted to be treated equally, they could apply for a "Permanent Visa," like any other foreigner has to do before they enter Australia. Prior to 2001, New Zealanders were actually not allowed to apply for these visas because the government correctly considered them permanent residents.
But, as you're about to read, the road to permanent resident status has become much tougher. Meanwhile other laws are targeting Kiwis at an increasingly alarming rate.
In 2005 the Australian Government decided that it would only give student loans to Australian Citizens. This change in policy means that New Zealanders moving after 26 February 2001 (and even their children) are not eligible for HECS funding, and, because they also are also not eligible for citizenship, many are denied access to education. This was never a part of the 2001 changes and was the beginning of more barriers being erected.
In 2007 the Australian Government abolished three specific New Zealand permanent resident visas (Skilled — Onshore Independent New Zealand Citizen; Skilled —Onshore Australian-sponsored New Zealand Citizen; and Skilled — Onshore Designated Area-sponsored New Zealand Citizen). New Zealanders can now only become "permanent residents" by sponsorship or competing with foreign migrants for capped numbers of skilled visas - the Department of Immigration estimates up to 60 percent of Kiwis will never meet the skills or age requirements.
In 2008 some Australian states saw that the Federal Government was able to discriminate against New Zealanders depending on their date of arrival (Before 26 February 2001 "Protected" / After 26 February 2001 "Non Protected") and joined in the fun. They basically copied the residency requirements of the amended federal Social Security Act and pasted them into their own state laws, retrospectively revoking the rights of New Zealanders who had already been resident in Australia for up to seven years (now 12 years).
Queensland currently denies disability support to New Zealanders and their Australian born children who arrived/were born after 26 February 2001. New South Wales denies social and emergency housing to the same group. Western Australia tried to do this with their disability funding, but were successfully sued and funding was restored in 2012. In Victoria, all New Zealand Citizens including primary and secondary school children are denied student concessions because they aren't considered "permanent residents" - this is currently facing a legal challenge in September at the Victorian Civil and Administrative Tribunal.
New Zealand women fleeting domestic violence with their Australian children are denied all government payments and emergency housing, while also being denied the ability to go back to New Zealand. They cannot even access money from their own super funds early, because you have to be already receiving a Centrelink payment to do so. Of course, New Zealanders are now ineligible for these. A catch 22.
It gets worse.
New federal legislation now "borrows" the residency requirements from the Social Security Act changes in 2001, but with even less media attention than was the case for the original changes. For example, the Social Security Amendment (Supporting Australian Victims of Terrorism Overseas) Act 2012 excludes New Zealanders who arrived after 2001, meaning if they are injured or killed overseas, even their Australian Citizen children will not receive a payment because her parent wasn't a "resident" of Australia.
And now the National Disability Insurance Scheme Act 2013 excludes New Zealanders who arrived after 2001. This is the NDIS which was supposed to provide universal coverage. Perversely, New Zealanders who arrived after 26 February 2001 will be the only group in Australia forced to pay the NDIS levy, but denied coverage under the Scheme.
New Zealanders and their children have been consistently and deliberately attacked since 2001, most without even knowing it. It has happened slowly though, possibly so that nobody would notice. Every year that passes, it becomes harder for Kiwis to even gain "permanent visas" which they need to protect themselves, while every state and federal law coming out seeks to deny them access to something because they arrived 12 years ago and not 13 years ago (Or, on 27 February 2001 and not 26 February 2001).
Of note the "Taxation Act" considers all New Zealanders permanent residents. So the Australian Government is perfectly happy treating them as 'permanent residents' when it suits them, and as 'temporary non-residents' when it doesn't.