Gillard to meet NZ PM in Queenstown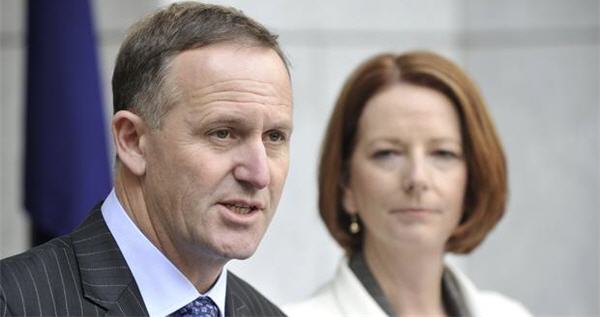 PM Julia Gillard is heading to Queestown for annual trans-Tasman talks with NZ PM John Key. (File photo NZ Herald)
Oz Kiwi opinion
This article from February 2013 shows the New Zealand government's willingness to advocate for reform on behalf of Kiwis living in Australia.
It is worth noting that Oz Kiwi only formed in April 2013. Now, after six years of advocacy work, the issues faced by New Zealanders living in Australia have very much become part of the policy discussion.
---
Gillard to meet NZ PM in Queenstown
07 February 2013
Australian Associated Press article
Prime Minister Julia Gillard arrives in Queenstown on Friday for a weekend meeting with New Zealand Prime Minister John Key.
The annual trans-Tasman top level talks mark 30 years of the Closer Economic Relations agreement, which Mr Key says has made Australia and New Zealand two of the most integrated economies in the world.
But despite the strong ties, an estimated 280,000 New Zealand residents who have arrived in Australia since 2001 are on temporary or special category visas, meaning they are denied voting rights, access to welfare benefits and student loans.
The plight of these so-called "second-class citizens" will be on the agenda when Ms Gillard and Mr Key hold talks on Saturday. Mr Key says he has raised the issue of Kiwi rights previously with Ms Gillard.
"There are a number of factors they need to consider. One of them is obviously the financial implications but then there is whether they think there is fairness in the system as it currently sits," he said this week.
Australians who come to live in New Zealand are treated the same way as any other resident and Mr Key says the government isn't planning to change that.
The Prime Ministers will also discuss co-operation in the Asia-Pacific region and defence and security, including cyber security.
Ms Gillard arrives on Friday afternoon and is due to leave early on Sunday.
Read the news.com article.