English, Turnbull singing from the same page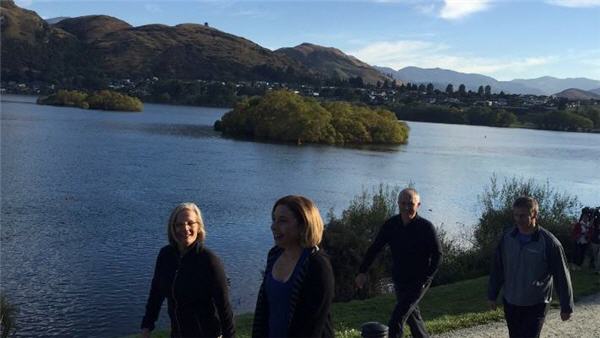 Malcolm and Lucy Turnbull stroll around Queenstown's Lake Wakitipu with and Bill and Mary English. (Photo: Tracy Watkins/Fairfax NZ)
Malcolm Turnbull and his wife Lucy take a stroll around Queenstown's Lake Wakitipu with and Bill and Mary English. (Photo: Tracy Watkins/Fairfax NZ)
18 February 2018
Tracy Watkins - Stuff
It was a show of trans-Tasman mateship - and its indirect target was US President Donald Trump.
Bill English and his Australian counterpart Malcolm Turnbull held their first official meeting as Prime Ministers on the picturesque shores of Queenstown's Lake Wakatipu and moves by the Trump administration loomed large over their day.
Turnbull flies out of Queenstown on Saturday morning after talks with English about trade, security and trans-Tasman issues.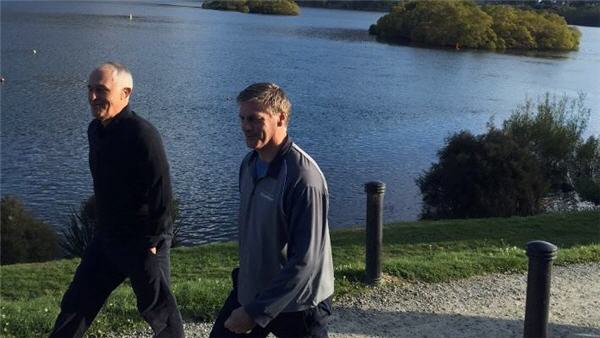 Malcolm Turnbull and Bill English take a stroll around Queenstown's Lake Wakitipu on Saturday morning. (Photo: Tracy Watkins/Fairfax NZ)
The pair enjoyed an early stroll around the town's picturesque waterfront, accompanied by their wives.
On Friday, the leaders agreed to work together to try and save the trans-Pacific Partnership free trade agreement, sending a pointed message over Trump's efforts to kill the deal.
Turnbull's passionate rejection of a retreat into protectionism and "putting up walls" was another indirect dig at the Trump administration turning its back on trade liberalisation.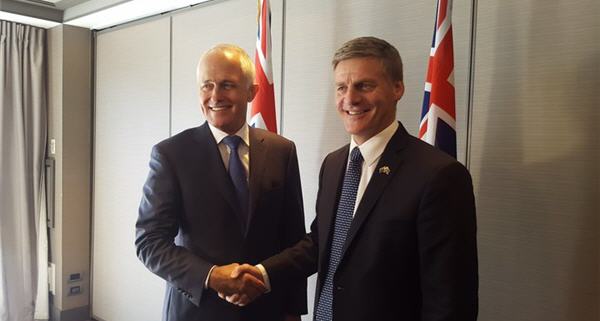 Australian Prime Minister Malcolm Turnbull (left) meets with NZ PM Bill English in Queenstown. (Photo: Pool)
"Protectionism is not the ladder to get you out of the low growth trap; protectionism leads to poverty. We've seen that film before (during the) great depression."
The Turnbull-English meeting was a crucial test of whether the current strength of the trans-Tasman relationship can survive the change in New Zealand's leadership.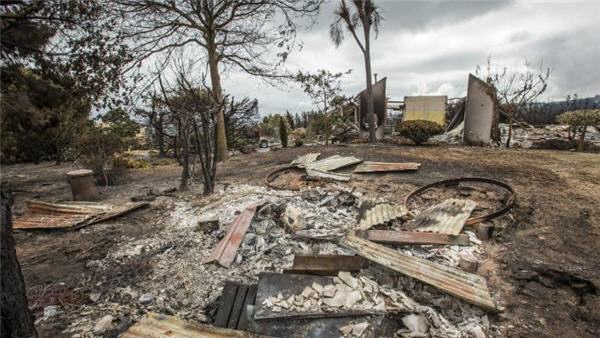 Burnt remains of properties in the Port Hills, Christchurch. PM Bill English thanked his counterpart Malcolm Turnbull for Australia's offer of help during the fires. (Photo: Braden Fastier/Fairfax NZ)
After touching down at Queenstown airport, Turnbull was whisked to Arrowtown where he and English laid a wreath in a mark of respect to fallen soldiers.
Flanked by rural volunteer firefighters, Turnbull later delivered a touching tribute to helicopter pilot Steve Askin, who died fighting the Port Hills fires.
"Obviously we are very, very sad, as you are, from the death of the helicopter pilot who had served in Afghanistan. He was doing what he was doing in Afghanistan: selflessly serving, courageously serving his country," Turnbull told journalists.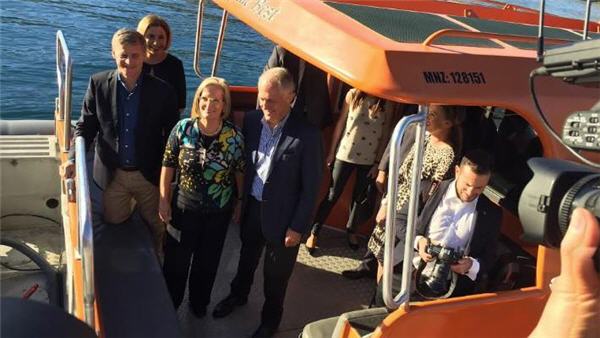 It's the annual trans-Tasman dinner date. Prime Minister Bill English and wife Mary take a water taxi with Australian Prime Minister Malcolm Turnbull and wife Lucy, ready to be whisked away to a private dinner location. (Photo: Tracy Watkins)
Turnbull and English later met for a lake front cruise on a luxury launch which took them to dinner at an undisclosed location. Lucy Turnbull and Mary English joined them for the traditional trans-Tasman dinner date.
The chemistry between Turnbull and English's predecessor John Key had been a strength in the relationship, and helped push a better deal for Kiwi expats in Oz across the line last year.
Turnbull and Key were similar in their outlook and backgrounds, while Turnbull and English are chalk and cheese - Turnbull the more urbane money man, while English still wears his southern farming roots on his sleeve.
But Turnbull's admiration for New Zealand's economic performance proved a powerful ice breaker; at one point he even turned during the two leader's joint press conference to ask English questions about the New Zealand economy.
Speaking with one voice on the TPP is not hard for either country, however; the bigger test of the Anzac spirit will come if the US calls on its traditional allies to commit troops to its fights, like Iraq or Syria.
Where America goes Australia goes - and usually New Zealand as well. But both countries might find that the goodwill that lent public support to the Iraq deployments is in short supply for Trump should he ever pick up the phone to Turnbull or English - especially after his belligerent phone conversation with the Aussie prime minister.
Maybe Trump should be thankful he was not a fly on the wall during their dinner date in Queenstown.
[Read the Stuff article].