Dutton's hardline treatment of refugees 'besmirched Australia'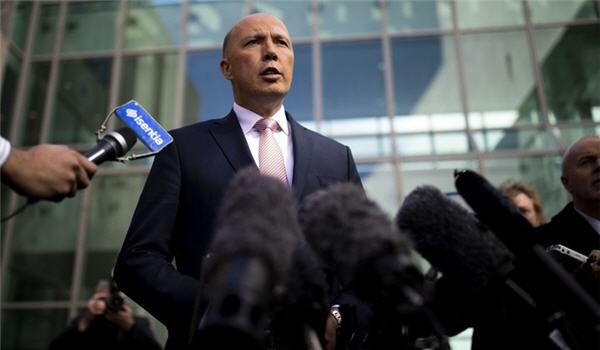 Australia's former Home Affairs Minister, Peter Dutton, faces the media at a press conference in Canberra. (Photo: AFP)
Dutton's hardline treatment of refugees and asylum seekers 'besmirched Australia'
22 August 2018
Kate Gudsell - Radio NZ
An Australian immigration lawyer believes New Zealanders detained in Australia may have a window of opportunity for them to stay now that Peter Dutton has resigned.
Mr Dutton stepped down from his Ministerial portfolios yesterday, which included Immigration and Border Protection, after unsuccessfully trying to roll Malcolm Turnbull as Australia's Prime Minister.
Mr Dutton had been the face of Australia's hardline stance on immigration since the end of 2014.
The 169 New Zealand men, women and children being held in Australian detention centres probably know it well.
Lee Tepuia had spent nearly two years in immigration detention after losing his visa on character grounds for being a member of the Rebels motorcycle club.
He won a landmark case against the Australian government last year.
The High Court of Australia ruled that a law that allowed Mr Dutton as Immigration Minister to keep the reasons he originally cancelled Mr Tepuia's visa a secret was ruled unconstitutional.
But within hours of the win Mr Dutton had revoked Mr Tepuia's visa again.
Mr Tepuia is now back living in New Zealand with his family, he was pleased when he heard Mr Dutton had resigned.
"Oh he's just an evil person that's all he is, you know, look what he's done to a lot of people, destroyed their families and destroyed their lives."
Mr Tepuia said he solely blamed Mr Dutton, and not the Australian government, for the way he was treated.
Immigration lawyer Greg Barns thinks the detainees may have a better chance of appealing the decisions made by Mr Dutton to revoke their visas.
"Depending on who becomes minister, they may have a better chance of staying in Australia, but it does depend on who becomes minister."
Robert Ayson, Victoria University professor of strategic studies, doubts there will be signficant change to immigration policies.
Listen Malcolm Turnbull … [has] needed to take a hard line
"Even though Malcolm Turnbull is from the moderate side of the Liberal Party he's needed to take a hard line on some of these issues for domestic political reasons.
"It's hard to see him changing that too significantly partly because it would make him too exposed to the conservative side of Liberal politics in Australia. "
Dutton not ruling out another challenge
Mr Barns said Mr Dutton had inflicted enormous cruelty on New Zealanders and others over the last few years and he hoped whoever replaces him permanently is from the more moderate wing of the Liberal Party.
The leadership bid failed with a 48-35 split in favour of Mr Turnbull. Following the loss, Mr Dutton resigned and headed to the backbenches where he has refused to rule out a second challenge.
Mr Barns believes Mr Dutton is poised to make another tilt at the leadership, but said while he was popular in parts of the conservative state of Queensland, the question was whether Australians would support him as prime minister.
Mr Barns said Mr Dutton had "besmirched" Australia's reputation on the international stage with his hardline and inhumane treatment of New Zealanders, refugees and asylum seekers.
However, Mr Barns said if he did become the Liberal Party leader, it would be more of the same.
"Whilst he won't be Immigration Minister, there's no doubt that his government would continue to prosecute with vigour visa revocations, and that impacts on New Zealanders much more than any other group in Australia."
Scott Morrison was the architect of the changes in 2014 that made it easier to revoke visas. He is now Treasurer and temporary Immigration Minister.
Mr Barns thinks he will only be looking after the immigration portfolio for a short time and there will be a broader reshuffle, but Filipa Payne from Iwi in Aus is not so optimistic.
She has been to every detention centre in Australia and said her phone was ringing off the hook yesterday from detainees excited about Mr Dutton's resignation.
She said there was a great sense of relief that the MP had gone and that he had implemented the law with such brutality "that he's actually hurt and damaged a lot of families in Australia and throughout the world. I believe a lot of people are holding hope that this will bring around change - I myself am a bit more cautious."
Ms Payne thinks Mr Dutton will definitely make another attempt to wrestle power from Malcolm Turnbull, which she said would affect every non-Australian across the Tasman.
Read the Radio NZ articles.