Assurances made detainees will receive fair hearing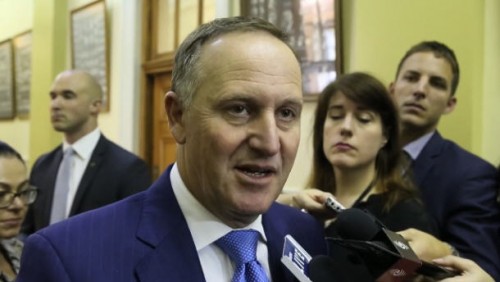 New Zealand Prime Minister John Key.
8 Dec 2015
Nicholas Jones - New Zealand Herald
Detainees who come to New Zealand to appeal their deportation will have a fair hearing, Australian authorities say - and official paperwork suggesting otherwise predates those assurances.
Justice Minister Amy Adams issued an urgent "please explain" to Australian Immigration Minister Peter Dutton this morning, after an Australian lawyer released a form that deportees were made to sign before leaving for New Zealand.
Green Party lawyer Greg Barns released the Immigration Service form which states: "If I have outstanding visa applications, requests or legal proceedings, I understand that if I choose not to withdraw them, consideration of my claims by the department or relevant review bodies (including the courts) may be discontinued once I am removed from Australia".
This morning Ms Adams said that, on the face of it, the form was very concerning and appeared to contradict assurances that had been made to both herself and Prime Minister John Key.
But after information received from Mr Dutton's office, she said she was satisfied detainees arriving in New Zealand would still receive a fair hearing, and could win their appeal and return to Australia.
That was because the form released by Mr Barns predated the special assurances given regarding New Zealand deportees.
"It is a generic form that they use for nationals of all countries … and Minister Dutton's office has confirmed that since the commitments have been in place New Zealanders have come back here, continued with their appeals … and have successfully returned to Australia.
"The situation as described to us is exactly the case - that no New Zealander is prejudiced or have their appeals waived or in any way dismissed by returning."
Ms Adams said she had raised the issue of the form needing to be upgraded, and she understood the Australians were looking at doing that.
The issue of whether deportees arriving in New Zealand get the right to appeal their deportation is critical, as Prime Minister John Key has repeatedly assured Kiwis in detention centres including on Christmas Island they can return without endangering their appeals.
That assurance was made in person to Mr Key by Australian Prime Minister Malcolm Turnbull.
As a result, detainees have voluntarily started to arrive in New Zealand, some on the so-called "Con Air" charter plane, including one convicted of manslaughter.
In question time today, Green Party co-leader Metiria Turei asked why Mr Key would take the Australians' word, when New Zealanders were being asked to sign a legal document that removed appeal rights from them.
Mr Key said the form only said rights may be removed, and, secondly, he did not believe Mr Dutton was lying when he gave assurances that appeals would be heard fairly.
Maori Party co-leader Marama Fox, who has been a strong critic of Australia's policy of deporting non-Australians who are sentenced to a year or more in jail, asked if Mr Key was aware of reports from detainees that they were being refused food, in order to pressure them into agreeing to deportation.
Mr Key said he was not and that situation sounded "extremely unlikely".