Deportations challenge ANZAC spirit - PM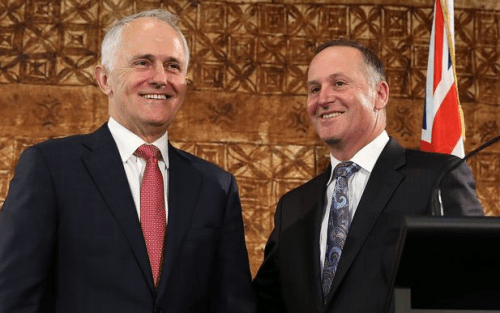 Australian Prime Minister Malcolm Turnbull, left, and and New Zealand Prime Minister John Key
19 November 2015
Radio NZ National
Prime Minister John Key says he is now slightly more optimistic Australia may make changes to make it easier for some New Zealanders to get Australian citizenship.
Mr Key has met his Australian counterpart Malcolm Turnbull at the APEC summit currently being held in the Philippines.
Australia's deportation policy continues to make waves on both sides of the Tasman, with a dozen deportees flying into Auckland airport this morning.
Mr Key said he reiterated the strong views held by many in New Zealand about the policy with Mr Turnbull.
"There is this ANZAC bond and when you get the sorts of things that we've seen recently, essentially this policy, which even though it's not targeting New Zealanders feels a little bit like it is, then it sort of challenges that ANZAC spirit in the minds of New Zealanders."
However he said Australia may consider changes in the longer term to make it easier for some visa holders to become citizens.
"But I haven't seen any details of that, I can't be sure that which actually happen, but I think he [Mr Turnbull] is certainly conscious of that so let's work on that issue.
"What's in it for him is the long-term position, it's not really sustainable in Australia, you have so many New Zealanders who are, for want of a better term, in a stateless position - they're not residents, they're not citizens, they're not going to be - but they're long-term, people who live in Australia."
Mr Key said he had discussed the matter with the previous Australian prime minister Tony Abbott, and now Mr Turnbull, who had indicated it was an issue he would like to address.