Citizenship pathway reveal met with elation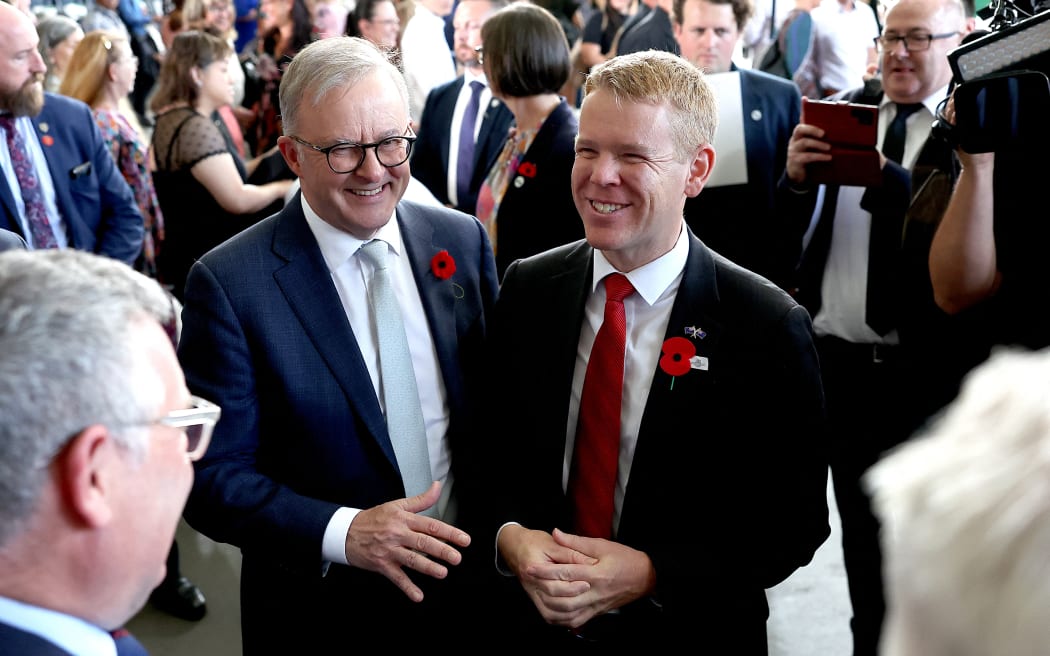 Australian Prime Minister Anthony Albanese and New Zealand Prime Minister Chris Hipkins chat after a Citizenship ceremony in Brisbane. Photo: AFP/Pat Hoelscher.
24 April 2023
Giles Dexter - Radio New Zealand
The Australian government has announced a pathway to citizenship for New Zealanders, restoring reciprocity to the relationship. It was marked by a citizenship ceremony in Brisbane for more than 200 new Aussies, presided over by Chris Hipkins and Australian Prime Minister Anthony Albanese.
"From the New Zealand side, it resets the clock," Hipkins said. "It puts us back into the position where we wanted to be all along. And so we were very, very happy with the decisions made by the government."
Joanne Cox from advocacy group Oz Kiwi had flown to Brisbane for the event. She had met frequently with Australian Labor MPs to lobby for the change. "We're just so amazed that we got our entire Christmas at once, it's incredible."
She admitted surprise Australia had decided to make the changes wide-ranging and retrospective, rather than a phased approach. "They flicked a switch and everyone's equal again. The injustices have been reversed."
The move means from July, around 350,000 New Zealanders can claim all the rights in Australia that Australians already have in New Zealand.
"New Zealand has been ahead of Australia, before today," Albanese said. "And you know what true friends do, and mates, as we like to use that term? They have equal relations. And that's the partnership that Australia and New Zealand have."
Read the full Radio New Zealand article.