Citizenship Amendment Bill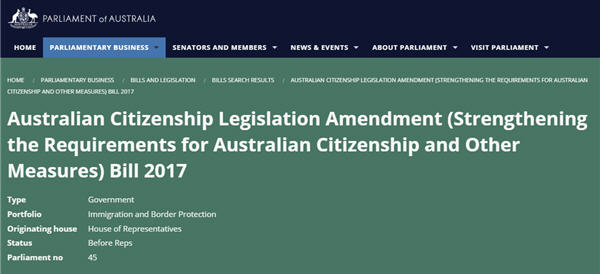 Citizenship Amendment Bill 2017 released last week.
21 June 2017
Oz Kiwi reviewed the Australian Citizenship Legislation Amendment (Strengthening the Requirements for Australian Citizenship and Other Measures) Bill 2017 upon its release last week, in anticipation of our meetings in Canberra on Monday.
New Zealanders are exempt from the English Language Test.
New Zealanders who acquire a permanent visa through the New Zealand stream 189 visa will only need to hold PR for one year. In other words, they will not be subject to the four year General Residence requirement as intended for every other permanent visa holder. We know it's unfair for those who acquired PR via RRV/partner visa etc, which is why we are lobbying.
Oz Kiwi notes there are many things wrong with the Bill, but below are the issues that will most likely affect New Zealanders:
Four (4) year general residence requirement
Requirement for criminal history checks for anyone over aged of 11
Ability for the Minister to set aside to Administrative Appeals Tribunal decisions
A limit on the ability for persons in certain circumstances (whatever that may be) to seek merits review of the Minister's decision in the Administrative Appeals Tribunal.
The Bill will get through the Lower House, but it will not pass the Senate in its current form because the opposition and cross bench do not support it. So, the likely scenarios are:
it will pass subject to amendments - we are hopeful that those amendments include, removing the four year General Residence Requirement and reducing the stringency of the English Test (though the English test doesn't affect New Zealanders) and we further hope in relation to the matters noted above; OR
it will be blocked holus bolus.
We also lobbied for removal of; the ability for the Minister to set aside AAT decisions, limits on merits review to the AAT and the requirement for criminal history checks for children 11 years and over, currently it is 16 years and over.
In terms of our efforts, there was nothing left in the tank, but we will continue our efforts when given the opportunity to make a Senate Select Committee submission.