Certificate of Australian Residence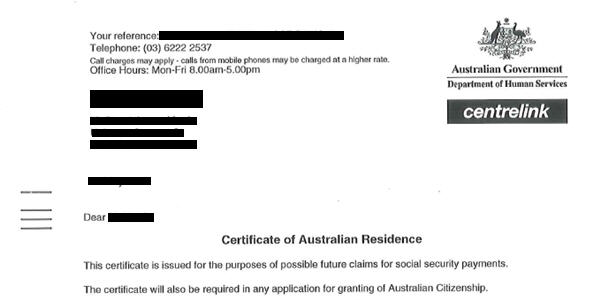 Certificate of Australian Residence issued to some New Zealand citizens in Australia (Photo supplied)
The Certificate of Australian Residence is a letter issued by Centrelink. The certificate is issued to determine your residence status under Australian social security law. It can be used:
as proof of your eligibility for Australian citizenship; and
for the purposes of claiming social security payments.
You are eligible to apply for a Certificate of Australian Residence if you are an SCV holder who commenced, or recommenced, residing in Australia between 27th February 2001 and 26 May 2001, and before 26th February 2004 you either:
registered with Centrelink as a job seeker; or
claimed Family Tax Benefit, or
claimed a social security payment such as Youth Allowance, Sickness Allowance or NewStart.
To request a Certificate of Australian Residence call Centrelink International Services on 13 16 73.
Related
Certificate of Status for New Zealand Citizens in Australia
New Zealanders eligibility for Australian citizenship
Overview of New Zealanders in Australia
Have a question?
Phone the Department of Immigration on 13 18 81 or contact them via social media. Please do not provide your personal details on a public forum.