Bridging visas
Bridging Visas not required by New Zealanders applying a permanent Visa. (Photo: Department of Home Affairs website)
New Zealanders do not need a Bridging Visa
New Zealand citizens do not require a Bridging Visa when applying for a permanent visa or citizenship. The Special Category Visa (SCV) does not expire, so will remain in effect until the permanent visa is finalised.
The Department of Home Affairs have a "one size fits all" computer system. SCVs may be advised they have been granted Bridging Visa A. The Bridging Visa status is "in-active" because you already hold a substantive visa, the SCV.
Do not apply for Bridging Visa B in order to travel overseas.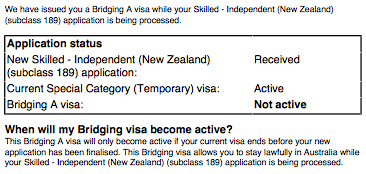 Extract of the letter sent to PR visa applicant showing that their Bridging Visa A is Not active.
Withdrawing a visa application
If you have incorrectly applied for Bridging Visa B in order to travel you can withdraw the visa application using Form 1446. Use Form 1424 to request a refund, but you may not be entitled to one.
Non-NZ family members
Family members residing on a 461 Visa will require Bridging Visa A (BVA) if their current visa expires before the new visa is granted.
Holders of an active BVA should apply for and be granted Bridging Visa B (BVB) before travelling overseas. You cannot apply for a BVB outside Australia.
Further information
Applying for the NZ 189 Visa? See Step 4 After you apply on the Step-by-step tab, and refer to the Bridging Visa information on the Home Affairs website.
Use VEVO to look up your visa status.