New Zealand 'brain drain' myth exposed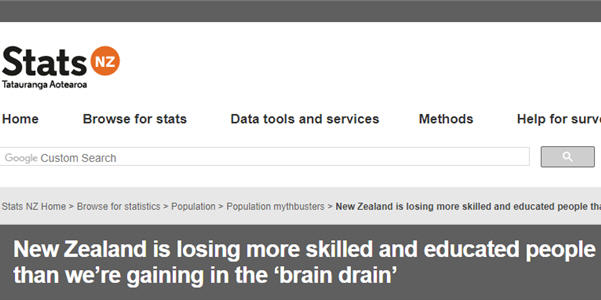 Is New Zealand losing more skilled and educated people than it is gaining in the 'brain drain'?
22 June 2012
Statistics New Zealand analysis
The 'brain drain' is the idea that New Zealand is losing its best and brightest workers to other countries. It's commonly thought that much of our talent ends up in Australia, which is our most popular destination for permanent and long-term (PLT) migration.
Over the past 15 years, more people have moved to New Zealand on a PLT basis than have left. On average, we've gained 12,800 people a year. But are these new arrivals less skilled, less educated, and less qualified than those who have departed? Have we lost 'brainpower', despite gaining people?
Looking at the annual average over the past 15 years, New Zealand had net PLT outflows among occupations such as service and sales workers (an outflow of 670), labourers (300), machine operators and assemblers (250), and agricultural and fishery workers (200). However, there was a large inflow of professionals (1,570). This illustrates a net loss of people in less skilled occupations and a gain in more skilled occupations.
The difference in occupations between arrivals and departures can be explained in part by the restrictions on PLT travel into New Zealand. Specifically, only a certain number of skilled migrants can enter each year (this applies to citizens of all countries except New Zealand and Australia). On the other hand, people departing for Australia do not face the same system of visas and permits, so those in less skilled occupations are not restricted.
However, the majority of people moving to New Zealand on a PLT basis fall into the 'not applicable' occupational categories. On average, these migrants have numbered 9,830 per year over the last 15 years. This group includes children, spouses, and retirees, the majority of whom are not in the workforce. Many will be coming with, or to join, skilled migrants. This group also includes overseas students coming to New Zealand for a year or more. When these students gain their qualifications, many stay in New Zealand on work or residence permits, so they become 'brain gains'.
The figures do not support the idea of a brain drain. Even though we do lose some skilled people each year, we gain even more. 'Brain exchange' seems to better describe the figures. However, whether these 'brains' are well used once in New Zealand (eg doctors driving taxis) could be debated.
Conclusion
This myth is busted.
How did this myth arise?
The myth arose from a number of factors. One of these is that young New Zealanders traditionally leave the country after university on their 'overseas experience' (or 'OE'). A high proportion of these people actually return a few years later.
In addition, although we have been steadily gaining PLT migrants in recent years, this has not always been the case. There were net outflows of people in the 1980s, in all occupational categories, as well as more recently from 1998 to 2000. For example, in the year 2000, New Zealand had a net outflow of 1,890 technicians, 1,590 managers, and 1,470 professionals. So we have actually had a brain drain at some stages in our past.
The final factor that may have influenced the myth is the large number of people moving to New Zealand who do not belong to any particular occupation. These are sometimes assumed to be unskilled migrants, rather than the family members of skilled migrants, as they tend to be.
Published 22 June 2012 based on information previously published on 29 May 2007.
The Statistics New Zealand article is no longer available online.