Best friends Australia and New Zealand patch up a major difference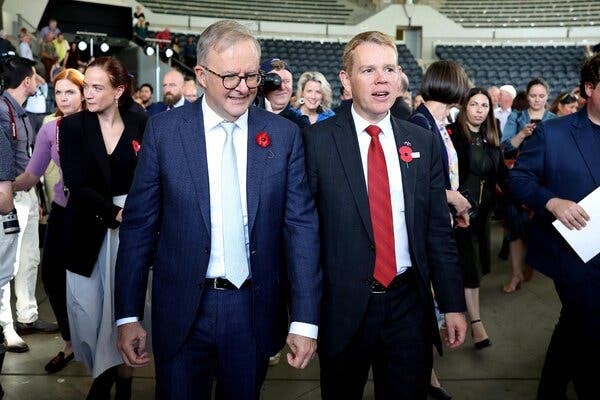 Prime Minister Anthony Albanese of Australia and his counterpart in New Zealand, Chris Hipkins, at a citizenship ceremony in Brisbane. Photo: Pat Hoelscher/Agence France-Presse
27 April 2023
The swearing-in ceremony had an unusual guest. Hundreds of New Zealanders were about to take an oath to become Australian citizens, and cheering them on in their pursuit of dual citizenship was the head of the New Zealand government. There was reason for all to celebrate. Australia was about to reverse a two-decade-old policy and restore rights for the almost 700,000 New Zealanders living in Australia to easily gain citizenship, putting them on par with Australian migrants across the Tasman Sea in New Zealand.
Australia and New Zealand often describe each other as their closest international partners. But in recent decades Australia's treatment of migrants from New Zealand — making it harder for them to obtain citizenship and deporting thousands under a new law — has led to a rift between the two allies. The new center-left government in Australia, led by Prime Minister Anthony Albanese, has taken steps to address these issues.
At the citizenship ceremony on Sunday in Brisbane, Australia, Chris Hipkins, the prime minister of New Zealand, said his presence was a sign of the "bonds that bind us all together." That sentiment was later echoed by Clare O'Neil, Australia's home affairs minister: "Our Kiwi cousins are our very best friends in the world."
Still, tensions remain. Behind the bonhomie, there have been strains on the enduring ties between these neighbors, particularly on matters of migration and foreign policy. Chief among them was a sudden policy shift by Australia in 2001, when a conservative government made it much harder for New Zealanders to get citizenship.
Those changes followed decades of dog whistles by the Australian right about New Zealanders, in particular those of Indigenous Maori or Polynesian descent, who were cast by some as taking advantage of Australian hospitality and unemployment benefits.
Australia created a special visa category for New Zealanders that allowed them unrestricted work rights but prevented them from receiving the same entitlements and protections granted to permanent residents and citizens. This condemned hundreds of thousands of New Zealand migrants, particularly lower-income workers, to a level of long-term insecurity no other migrants to Australia have had to endure.
On Sunday, after years of prodding, Mr. Albanese announced a streamlined process for New Zealanders living in Australia to attain citizenship after four years. The changes from 2001 should never have been made, he said. "True friends have equal relations, and that's the partnership that New Zealand and Australia have," he said.
Read the full New York Times article (paywalled).