Australian govt still plans to overhaul citizenship laws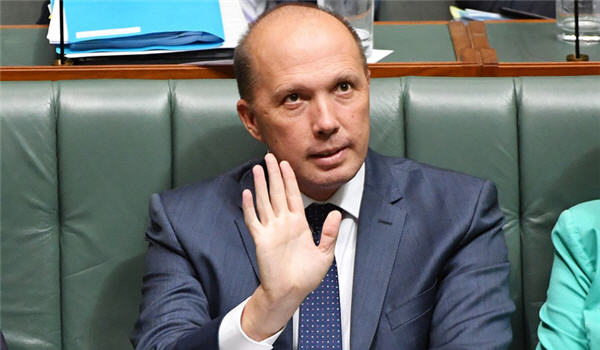 Immigration Minister Peter Dutton has confirmed that citizenapplications received after 20 April will be processed under existing laws. (Photo: AFP)
19 October 2017
The Australian government is not abandoning plans to overhaul citizenship laws despite a major defeat in the Senate.
It was unable to secure Senate support for its proposed changes to citizenship laws last night and the bill has now been removed from the Senate's schedule.
The changes would have toughened the English language test and make immigrants wait longer before applying for citizenship.
But migrants wanting to become Australian citizens have been given an assurance that their applications will be processed under the current rules.
Immigration Minister Peter Dutton confirmed to ABC News that applications received after 20 April would be processed under existing laws following the rejection of amendments by the Senate.
The decision is a significant backdown from the Federal Government, following its announcement in April of planned changes that would have made it harder to become an Australian.
The proposal would have required applicants to live in Australia for four years on permanent residency visas and demonstrate "competence" in English.
Mr Dutton had sought to apply the changes to all people who applied from 20 April, but he could not secure support from the Senate.
The Assistant Minister for Multicultural Affairs, Zed Seselja, said the government would not back away from the changes.
"We're committed to them, we've compromised on some of the key sticking points that Labor claimed were stopping them from boarding the bill, it's really going to be now a matter for Peter Dutton as to what the future is.
"It is certainly better if you learn English, it makes it easier for all of us to communicate."
NZers still 'out in the cold'
A lobby group for New Zealanders living in Australia said while the Liberal-led government had failed in its bid to toughen up citizenship laws, thousands of New Zealanders were still out in the cold.
A spokesperson for Oz Kiwi, Joanne Cox, said of the estimated 650,000 New Zealanders in Australia, up to 200,000 had no hope of ever getting citizenship under the current law.
Ms Cox said public opinion was against the defeated bill.
"There were 14,000 submissions and only two were in favour of the changes.
"The Department of Immigration themselves submitted to the process and they were in favour and the Australian Monarchists Society were also in favour."
Ms Cox said the Bill's defeat meant New Zealanders who could apply for citizenship would not have to wait years longer.
However, she said thousands of others were still stuck in limbo on Special Category Visas (SCVs), with no pathway to citizenship at all.
Read the ABC/Radio NZ article.