Aust deportation laws 'not human' - Labour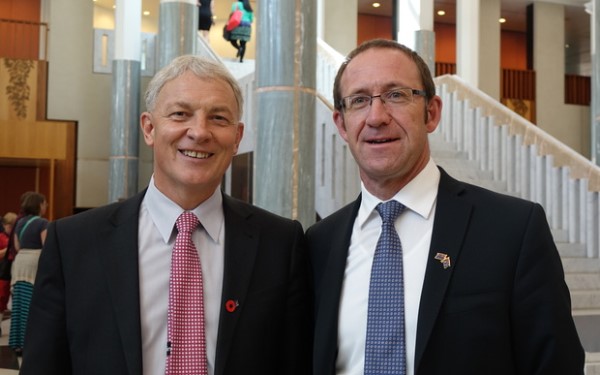 Labour MPs Phil Goff (left) and Andrew Little at Australian Parliament in Canberra.
27 November 2015
Demelza Leslie, Political Reporter (Radio New Zealand)
Labour Party leader Andrew Little's visit to an Australian detention centre has validated how he feels about the country's immigration laws, he says.
On Wednesday, Mr Little and senior MP Phil Goff received a guided tour through the Villawood detention facility in Sydney, and spoke with three of the detainees.
Listen to more on Morning Report
The centre is an unmarked and inconspicuous building in Sydney's western suburbs. It houses hundreds of detainees, including more than 60 New Zealanders. Media were not invited inside, and were guarded on the road in front by a heavy security presence. Mr Little said the facility was tidy but sterile.
Of the three New Zealanders they spoke to, all had arrived in Australia aged about 10 and had served their time in prison for minor drug or shoplifting convictions, he said. They had all spent longer in detention than they had in prison.
"What it tells you is that the law of mandatory revocation and detention is too crude a response to the situation these guys are in." Mr Goff said he found it surprising how many of the detainees had young children.
"The guys are going to be sent back and, if it's a serious [crime], then yeah, maybe they deserve it, but for a low-level offence to be sent to a country that's not your home because you've not lived there for 20, 30, 40 years and to be separated from your young dependent children, you know, that's not human."
The politicians toured the Villawood Immigration Detention Centre in Western Sydney yesterday afternoon.
Australian citizen Karolina Robert was visiting her New Zealand partner Jarl Wiki at the Villawood detention centre on Wednesday. Wiki had been held there since July, after he was plucked off the street while on parole for robbery. Ms Robert said he was taking the detention, and possible pending deportation, hard and she feared for his mental state. New Zealand detainees advocate Karen Bollette said the men were not in a good way.
"A lot of them are depressed, mostly because it was unexpected that they arrived in here." None of them wanted to go back to New Zealand, and few had the resources to fight it, she said.
Mr Little said he was considering referring some of the men's cases to Australian Immigration Minister Peter Dutton.