Ardern was right to call out Australia's 'corrosive' policies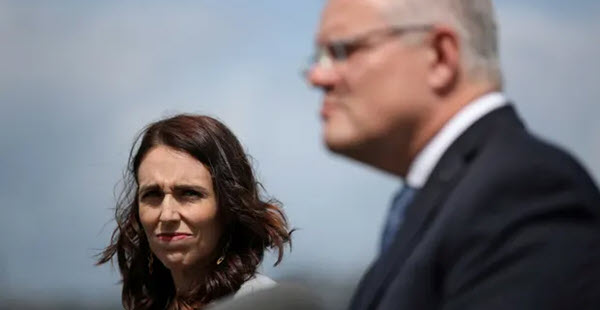 NZ Prime Minister Jacinda Ardern holds a joint press conference with Australian PM Scott Morrison. (Photo: Loren Elliott/Reuters)
28 February 2020
Ben Doherty - The Guardian
The New Zealand Prime Minister was justified in taking Scott Morrison to task over a policy that is both spurious and damaging.
We've seen this movie before. Then, in Love Actually, Hugh Grant played the unlikely Prime Minister of Britain, standing up to an oleaginous Billy Bob Thornton as President of the US. This time, the backdrop was Sydney Harbour, and the champion of the underdog was New Zealand leader Jacinda Ardern. Scott Morrison was a cornered Australian prime minister, looking around for a ferry, a helicopter, anything, to transport him away: anywhere but here.
At issue is the deportation of New Zealand citizens - some of them Indigenous Australians, others raised and schooled in Australia and who have barely been to New Zealand - forcibly sent back to a country to which they have no connection after serving a prison sentence in Australia.
"Australia is well within its rights to deport individuals who break your laws," Ardern said. "New Zealand does the same. But we have a simple request - send back Kiwis. Genuine Kiwis. Do not deport your people and your problems."
The issue has been a point of simmering tension between the two nations for years, but has erupted into fresh acrimony in recent weeks and become an election issue for Ardern after New Zealand police said the policy was a significant reason behind a rise in domestic criminal gang activity.
Morrison, for his part, was resolute. "Our government is well known for our clear views on immigration and border security. If you have committed a crime and you're not a citizen of Australia, then you have no right to stay."
But countries are responsible for the people they create. The people at the centre of this debate were, in many cases, raised and schooled entirely in Australia. They fell into crime - some of it petty, some of it serious - in Australia. They have all the family and friends they have ever known in Australia.
Read the full Guardian article.