Ardern lashes Morrison for 'testing' friendship over deportations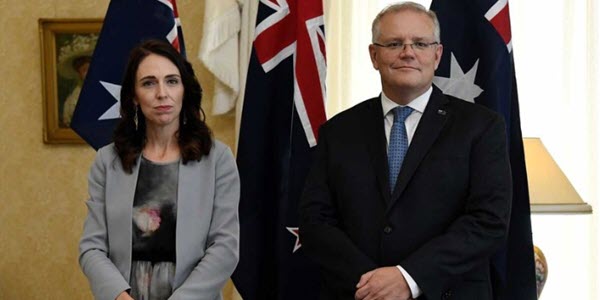 NZ PM Jacinda Ardern and Aust PM Scott Morrison have clashed over immigration policies. (Photo: Bianca de Marchi/AAP)
28 February 2020
Amy Remeikis - The Guardian
The New Zealand Prime Minister, Jacinda Ardern, has lashed Scott Morrison for "testing" the friendship between the two nations, accusing Australia of deporting "your people and your problems" using "unfair" policies.
Standing next to an uncomfortable Australian Prime Minister, Ardern warned she did not wish to see the traditional allies engage in a tit-for-tat "race to the bottom" over the controversial policy, but warned she would not let the matter drop.
New Zealand, she said, took into account a person's ties to the nation and did not deport those "considered for all intents and purposes to have established themselves as New Zealanders".
Morrison said Australia had no plans to abandon the policy. "The Australian government's policy is very clear," he said. We deport non-citizens who have committed crimes in Australia against our community. This policy is applied not specific to one country, but to any country whose citizens are here. You commit a crime here, if convicted, once you have done your time, we send you home."
Ardern listened to Morrison's explanation and said he had solved the issue himself.
"The Prime Minister used a key word in his reference just now - he said that after they have served their time he sends them "home"," she said.
"The example I used demonstrates that we have countless who have no home in New Zealand, they have no network, they have grown up in Australia. That is their home. And that is where they should stay."
Read the full Guardian article.