Andrew Little in Australia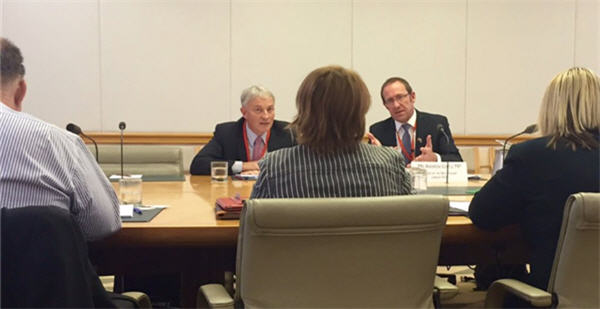 A great hearing at the Immigration Select Committee in Canberra - a real willingness to look again at Kiwis' rights. (Source: @AndrewLittleMP)
26 November 2015
Anthony Robins - The Standard
A big policy change by Australia was never at all likely from Little's visit. But it looks like the visit has been positive and constructive.
A conversation that needs to be had, well done to Little for raising the profile of these issues. Contrary to Key's scaremongering about making things worse this seems to have been a positive and constructive visit.
Andrew Little given 'good hearing' on Kiwi rights in Australia despite pushback
Labour leader Andrew Little says he has received a "good hearing" from Australian politicians about the rights of Kiwis living across the ditch, despite some suggesting they should "go home" if they're not happy with the rules.
Little said the difficulties for Kiwis in obtaining Australian citizenship were discussed, along with their requirement to pay into a national disability insurance scheme that they could not make claims to.
"I think there was widespread acceptance that the idea that you pay into a scheme that you're then disentitled to make any claims on was just wrong."
25 November 2015
'No eureka moment' from Australian govt on deportation rules - Andrew Little
Little says there was "no eureka moment" during a meeting with Australian immigration minister Peter Dutton, although he appeared willing to look at individual cases of supposed injustice.
A couple of cases we gave examples of and he expressed a willingness to look at them."
Little also met with Australian Labor leader Bill Shorten and other opposition MPs, after earlier speaking at two Australian standing committees on the rights of expat Kiwis. Most of those he spoke to had given him "a sympathetic hearing and a willingness to discuss the underlying policy issues".
Andrew Little and Phil Goff appear before committees in Canberra
NZ Herald News
In a rare move, Mr Little and Mr Goff will today appear before two committees in Canberra — the Joint Standing Committee on Migration and Joint Standing Committee on Foreign Affairs, Defence and Trade. The primary purpose of the trip is to highlight the lack of rights for an estimated 250,000 to 350,000 Kiwis living in Australia on "non-protected" visas, including few welfare safety nets and no automatic path to permanent residency or citizenship.
After presenting to the foreign affairs committee, of which Dr Stone is a member, Mr Little said there was "very robust discussion" with clear views expressed. "But, in summary, I would say there was a broad acceptance that there is some unfairness in the way the rules are applied, and a willingness to look at that and make some refinements that has been in place since 2001."
Mr Little and Mr Goff will this afternoon meet Opposition leader Bill Shorten and deputy leader Tanya Plibersek, Labor MPs, and Australian Immigration Minister Peter Dutton.
But partly because of Mr Little's Australian trip, focus is now switching to the related but wider issue of all New Zealand expat rights.
Read The Standard article