Albanese government makes Australian citizenship easier for New Zealanders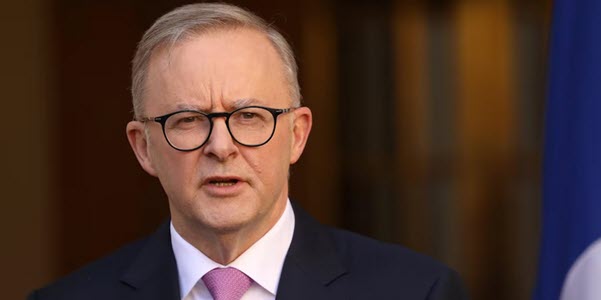 Prime Minister Anthony Albanese described the move as 'a fair change for New Zealanders'. (Photo: ABC News, Matt Roberts)
22 April 2023
Stephen Dziedzic - ABC News
Prime Minister Anthony Albanese unveiled the new "direct pathway to citizenship" on the eve of a visit by his New Zealand counterpart Chris Hipkins, who will then meet Mr Albanese in Brisbane on Sunday.
It is a major win for New Zealand, which has spent years protesting against the Howard government's decision in 2001 to establish a new "Special Category" visa for New Zealanders in Australia. That visa allows New Zealanders to stay in Australia but restricts their capacity to access some government payments and obtain citizenship without first getting permanent residence through the migration program.
Now the Albanese government has largely rolled back that change, allowing all New Zealanders on the Special Category visa to apply for citizenship without becoming permanent residents first, if they've lived in Australia for at least four years.
Mr Albanese first flagged the changes in July last year when he met with New Zealand's then prime minister Jacinda Ardern and declared he wanted to "reset" the relationship.
Australia's Home Affairs Minister Clare O'Neil argued the decision would open the door to important services for Kiwis. "We had young people living in Australia who were not able to access university education ... because they were technically Kiwis," she said. "We've had instances where women have been unable to leave relationships of domestic violence because they don't have access to social supports.
"So this is about making sure that that strong friendship we have is reflected properly in law, and it is a massively good thing for our country and for New Zealand."
The announcement removes a major sore point in the bilateral relationship over the past two decades.
Australians living in New Zealand are allowed to apply directly for citizenship if they have lived in the country for five years and pass basic eligibility tests, and can already access a wide range of government benefits. Australians who intend to settle in New Zealand can also vote in elections after just one year in the country.
Read the full ABC News article.