Defence Force visa rules leave Kiwi Aussies in no-man's land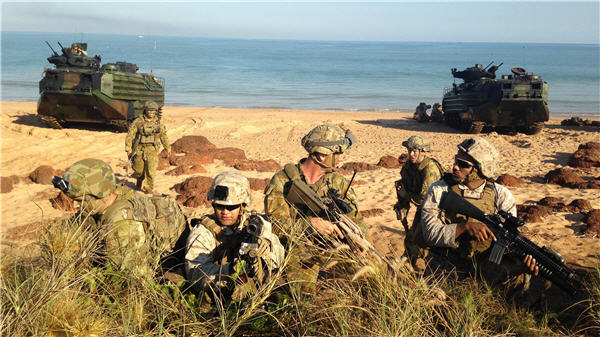 Australian Army soldiers and US Marines during an exercise in Talisman Sabre 2015 at Fog Bay, Australia, 11 July 2015. (Photo: Sgt Sarah Anderson)
04 April 2015
Sid Maher - The Australian
When Alex Addison tried to join the Australian Army two years ago he received a shock. His application was rejected because he was a New Zealand citizen.
"It was quite devastating to me,'' he said from his family's dairy farm at Nullawarre on Victoria's Great Ocean Road. "I kept asking why and they just kept saying look at your passport.''
After living in Australia for 13 of his 20 years and completing his schooling here, he considers himself an Aussie rather than one of the 650,000 New Zealanders who have made Australia home.
Addison's grandfather was also Australian. He fought in Vietnam with the New Zealand Army before moving to Canberra to be with mates he had served with.
When it was time to get a job, Addison turned to the military. "I kind of felt it was in my blood, I was ­attracted to it,'' he said.
The rejection was a double blow for Addison. He had wanted to study criminology at university but because he is a New Zealand citizen he would have had to pay full fees up front. Now he is helping to run the family farm.
Because his parents came to Australia after 2001, Addison has found himself in a situation faced by many children of Kiwi ­immigrants who are stuck in something of a bureaucratic no-man's land.
Since 2001, New Zealanders have been admitted to Australia on a special temporary visa that ­allows them to work and buy property and stay as long as they like. They pay tax to the Australian government but they are not automatically entitled to claim permanent residency, which denies them access to social security.
The move was enacted to prevent what was seen at the time as a wave of welfare exploitation by New Zealand immigrants.
But as time as gone on, it is having an impact on the children of New Zealand migrants who have arrived in the past 14 years. Without permanent residency, a ­migrant has no path to citizenship. The temporary visa also denies a migrant the opportunity to join the Australian Defence Force. If they want to study at university, they are treated as a full-fee paying international student.
Albert Gillis, who lives in Belmore in Sydney, had the same ­experience. A veteran of the Royal New Zealand Infantry Regiment who served alongside Australian defence personnel in the Solomon Islands, he was told he would have to be a permanent resident if was to be accepted by the ADF.
In 2013, actor Russell Crowe described the fact that he was not an Australian citizen as frustrating given he had spent his formative years here. He said there were a lot of other people in the same boat.
"There's a whole bunch of New Zealanders who have committed to a life here, who have had children here, who bought their first houses here, who have been productive, taxpaying members of society. I know why the rules are in place and I understand and respect that, but there has to be some form of arbitration where you can state your case. These rules are not big enough to engage with the complexity of people's lives."
The plight of Addison and other New Zealand migrants to Australia post-2001 is concentrating political minds in Canberra, where South Australian independent senator Nick Xenophon and Tasmanian independent Jacqui Lambie are taking a keen interest.
"Not letting Kiwis be part of the ADF is a slap in the face to the spirit of Anzac,'' Senator Xenophon said. "Our bond with New Zealand was forged in blood a century ago on the shores of Gallipoli. While blood may be thicker than water, it seems that bureaucratic red tape is thicker than blood.''
Senator Xenophon, in a letter to Defence Minister Kevin ­Andrews last month, said: "As you would be aware, only citizens or permanent residents who have ­applied for citizenship can enlist in the ADF.
"For long-term New Zealand Australians living permanently in Australia under special category visas, those interested in serving Australia cannot do so without first taking out citizenship. This means returning to New Zealand and applying through the normal channels.''
Greg Rudd, a co-­architect of the Australia Remembers campaign, which commemorated the 50th anniversary of the end of World War II during the Keating government, said it was appalling that both sides of politics had failed to fix an issue that has no budgetary implications. "You are creating a new race of New Zealanders that causes disharmony even within families,'' Mr Rudd said. "I know of families where one child has been here 10 years and has no rights and other members of the family have normal Australian rights. You can't have that.''
Former NZ reservist Duncan Sandilands, who now lives in Perth, has been campaigning on the issue for the past two years. He was knocked back from joining the Australian reserves in 2007 because he was a New Zealander.
"The application was accepted. I passed everything. Then they discovered I was a Kiwi and I was knocked back,'' he said .
In the past few years he had been pushing for change, starting Fairgo4all and lobbying politicians including Assistant Minister for Defence Stuart Robert.
He began his campaign after attending an Anzac Day dawn service in 2013 at which several Australian and Kiwi veterans expressed disbelief at the difficulties New Zealanders had in joining the ADF. "Australians who are residents of New Zealand after two years can join NZ Defence Force, so why then can't Kiwis who have been resident in Australia for two years join the Australian Defence Force?'' he said.
The Immigration Department says there are paths open to New Zealanders to claim permanent residency, which in turn gives them a path to citizenship. This involves entering the mainstream immigration program, which can include obtaining employer sponsorship, or leaving Australia and making an application to become a permanent migrant as part of the global annual intake.
But it does ­"acknowledge that not all New Zealand citizens will meet … the legislated ­requirements to be granted a permanent visa''.
Mr Robert argues that Australia does not prohibit New Zealanders from joining the ADF. But they must first become an Australian citizen or permanent resident.
"Only Australian citizens are permitted to join the ADF as it has long been considered appropriate that our military personnel demonstrate a formal commitment to, and long-term stake in, Australia's future,'' Mr Robert said. "The New Zealand Defence Force has very similar eligibility requirements.''
For Addison, who falls under the post-2001 rules of being a temporary resident, the situation he finds himself in does not make sense as it most likely will require him to "go home" to New Zealand to make that application.
"Australia is my home now,'' he said. "To join the army I will have to move to a strange country that I have no ties to. How can that be right?''
The Australian article is paywalled.