78 percent of Kiwis in Australia are working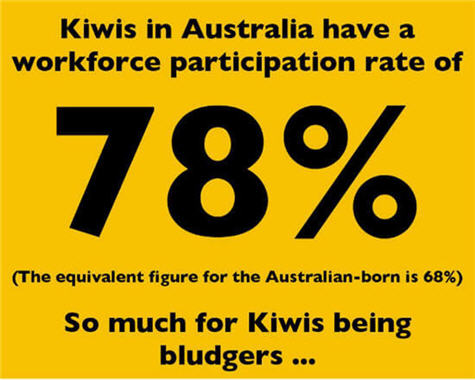 06 August 2016
The Kiwi dole bludger is a myth.
New Zealanders in Australia have always had a high workforce participation rate. The 2011 Census recorded a 78 percent workforce participation rate for New Zealand-born workers. This compares to a 68 percent of Australian-born workers.
As Peter Mares explains in A Special Category:
The persistent stereotype of the Bondi Bludger was one of the reasons why the Hawke government, in 1986, imposed a six-month waiting period before newly arrived New Zealanders could get unemployment benefits. In 2000, this withholding time was extended to two years, putting New Zealanders on the same footing as all other permanent migrants entering the country. Then, in 2001, the Howard government amended the definition of 'Australian resident' in social security laws in such a way as to specifically exclude New Zealanders.
You can read the full article, A Special Category, in the Griffith Review Edition 43: Pacific Highways. Copyright Griffith University and the author.
Also published in The Conversation on 11 February 2014 New Zealand's 'Bondi Bludger' and other Australian myths.